If you haven't, you've got to give John Kryk's piece on the Harbaughs and Moellers a read. Great stuff.
Here's a much less interesting piece of Harbaugh history. Up on eBay right now, this scorecard from the 1994 CGA Classic of Orlando, a charity golf event: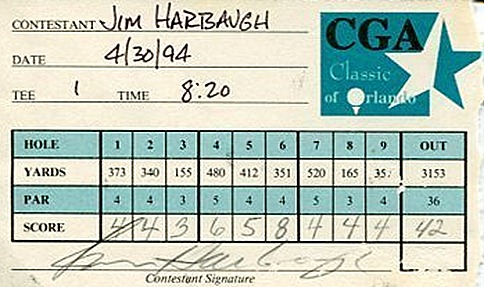 This was just a few weeks after he signed with the Colts, and Jim had a decent day save for the snowman on seemingly tame 351-yard par four #6 which no doubt sent his jaw jutting.
Other than the backstory on the snowman, the only question for me is that signature at the bottom. Is that really Jim Harbaugh's actual signature? Tough to tell. While it looks very little like his autograph on other items on eBay, you have to factor not only for the tiny golf pencil that was likely used to scribe his name and perhaps the frustration with the 8, you also must consider the Bloody Marys and other libations that were no doubt consumed that morning on the links.
Want it? Buy it now for $11.99.
Follow MVictors on Twitter