The Detroit Tigers are teaming up with U-M's Pat Maloy Cancer Scholarship this September. The promo is called 'Wolverines in the D' for the Tiger's game on Friday Sept 20 against the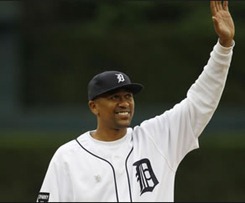 Twins. $25 gets you an upper deck seat and a "Wolverines in the D" t-shirt. The Tigers will then donate $5 of each ticket package sold back to the Maloy Scholarship.
All the details and online ordering info is on the Tigers site here.
Notable: The U-M Men's Glee club will perform the National Anthem.
Very notable: Fab Fivers Jimmy King and Jalen Rose are throwing out the first pitches. I need someone to be there with photos and scouting report.
Again, details here.
The Pat Maloy Scholarship was created by former students of University of Michigan professor Bernard "Pat" Maloy who passed away in 2001 after a courageous battle with esophageal cancer. The scholarship is a four year scholarship awarded to an incoming freshman with financial need who has battled cancer or whose direct family members have been stricken with cancer.
H/T to Neil C. for passing this along