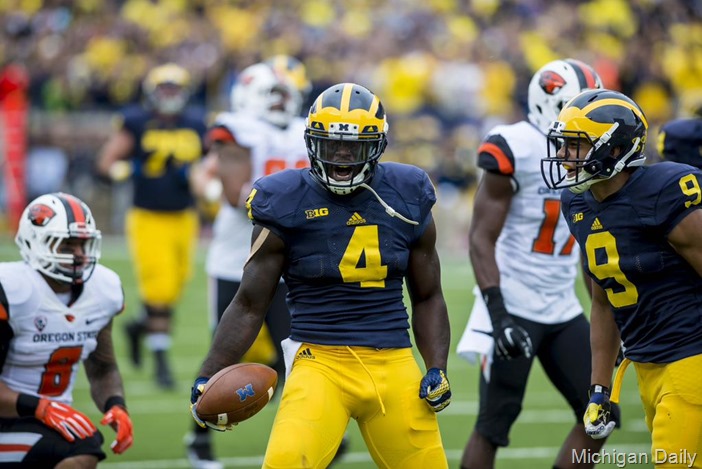 "I GUESS I HIT THAT HOLE YOU NERDS!" (via Michigan Daily)
Following another Smith score to put U-M up 26-7, Harbaugh personally called for the 2 point conversion. He gave some kind of signal to the celebrating players – it looked like a bear claw from the press box. He sat hunched over outside the team area basically begging for Rudock and a few other guys to get the message and line up—flashing the bear claw gesture as hard as he could.
Rudock and crew eventually got the message, lined up and successfully executed the 2 point conversion to put U-M up 28-7. On the trot back to the sideline Rudock tried to slide back to the bench with the rest of the unit but Harbaugh put his hand in Rudock's chest—stopping him in his tracks. There was a quick chat between QB and coach, I assume something along the lines maintaining composure even after a TD and paying attention. After the chat, #4 delivered a pair of hearty butt slaps and Rudock went back to the bench.
Here's the deal – Harbaugh is in absolute control (most of the time) of the sideline and what the players are doing on the field. The only other way he'd have it is if the rules allowed him to play a snap or two. So the coach is in charge and coaching. Big deal, right? Welp…it is in these parts.
Now, it's classic college football fan to oversteer on losses and on the wins, and that's 3X in Ann Arbor and 4X here in Saline (me). But the team is better and actually demonstrating real toughness. Given the recent past this is step one. Looking ahead to some of the big games you have to feel, if nothing else, Michigan Stadium is difficult place to play again.
Sights and Sounds:
Darker, darker, and decals. Uniform updates includes darker maize, darker blue and decals. More on all that here and here the full Uniform Timeline is there.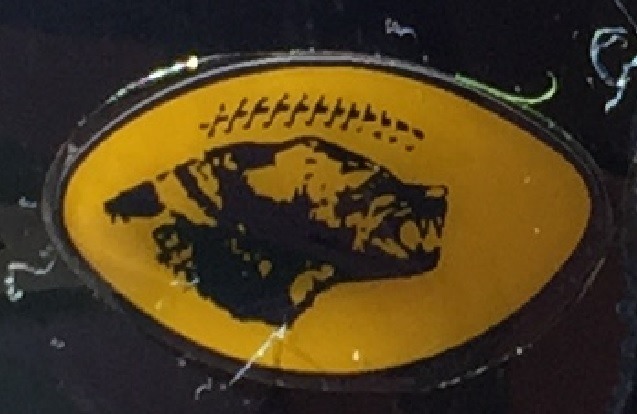 Darker Maize. So now that the uniform, for the most part, has adopted the deeper, old school maize – it's time for the rest of the stadium to get on board. Most notably the block M on the field and the MICHIGAN in either end zone. The contrast is striking when looking at the players against the field graphics:

Memo to AD Hackett. Other things that need to get in sync with the deep maize color:
The GO BLUE banner
The band uniforms
Pretty much everything fans wear
The goal posts? I consulted the MVictors law-talking-guy and we agree we have some leeway here to repaint the uprights. cc: AD Hackett. 2015 NCAA rulebook:

Banner Start. Speaking of the banner, Jim Harbaugh did not touch the banner on his way out to the field. Vid via Mark Snyder of the Freep. Coach did slap many-a-butt on the sidelines after units returned to the sideline, but left the banner alone despite my 85% odds on him doing so.
Want (in darker maize naturally):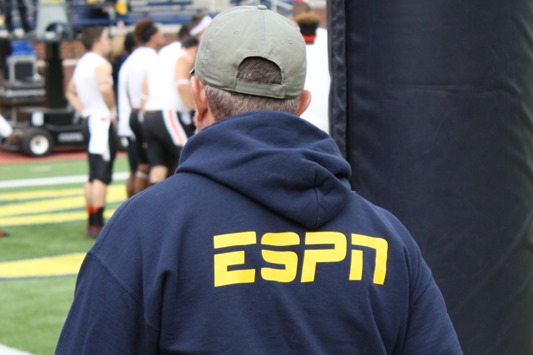 New Drum Major. Well done to that guy on your first head dip. Nice core strength.
Free Peek. BRAVO to #1000SSS on the kick ass game program cover. And bless you for sparing us shots of players posing in golf shirts all season. I look forward to what they bring week-to-week. This is an actual colorized shot from Ferry Field via the U-M Bentley Historical Library. I'm efforting more info but I assume it's 1920-1925-ish. [Update 9/14: Per Greg Kinney of the Bentley "The photo is from the graduation ceremony of June 1940. It was on the cover of the July 1940 issue of the Michigan Alumnus Magazine. Before 1927 you would have seen a goal post (or maybe temporary bleachers) from that view."]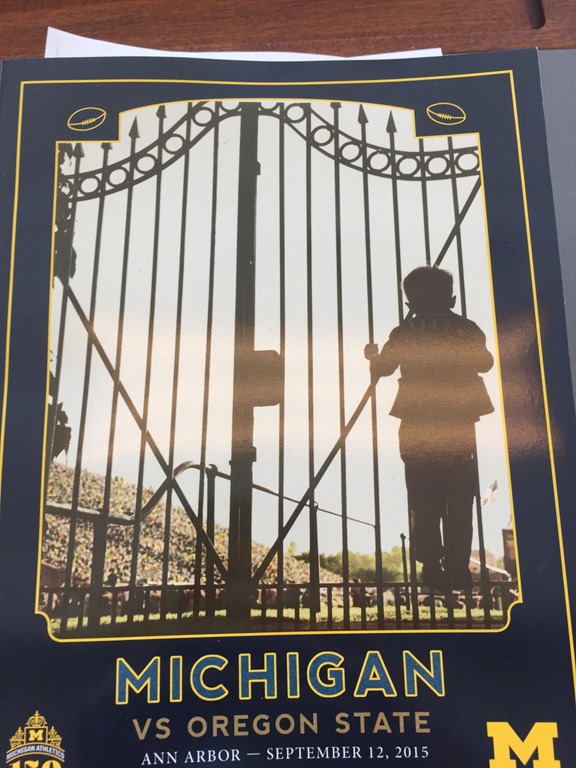 Insert joke about Dave Brandon's great granddad trying to charge this kid 2 bits for the peek
2015 <—> 1964 After surrendering an early touchdown to Oregon State, the team pitched a shutout from then on, scoring several touchdowns with the lead U-M running back finding the end zone 3 times. Sounds familiar? That's how the biggest game we've played against Oregon State in U-M history played out, namely the 1965 Rose Bowl. So 50 years ago this year Michigan won 34-7 after the early Beaver TD put them up 7-0. Mel Anthony tallied 3 TDs and captain Jim Conley and Bump had their Rose Bowl championship. Here's All-American Bill Yearby looking Chris Wormley-esque in his beastness: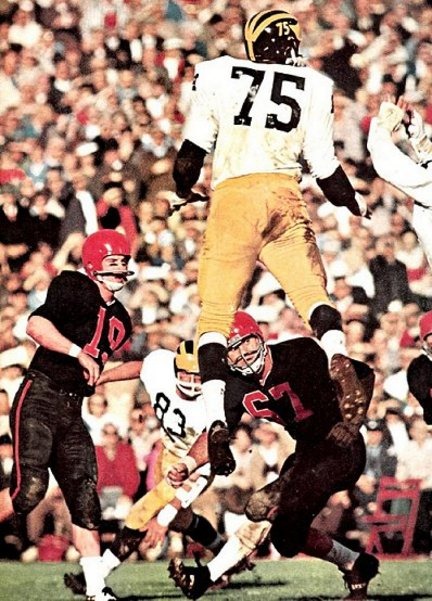 My money is on Michigan in this one
Twelve. Prior to the once-in-a-half-century snap snafu, Michigan had twelve men on the field. The U-M sideline caught it, called a 30 second timeout, and then the snap snafu ensued. Props to the tweets from a few folks reminding me that 12 men beats 10 (Agreed). A pic of the 12 fellers from upstairs: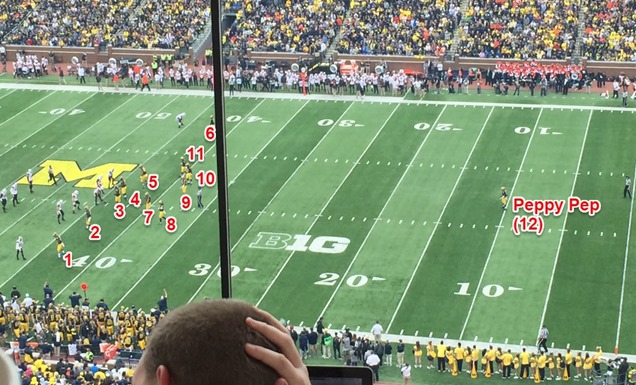 Coach B in the Booth. Nice work by coach Beilein hopping the radio booth and even showing his chops on a play-by-play call: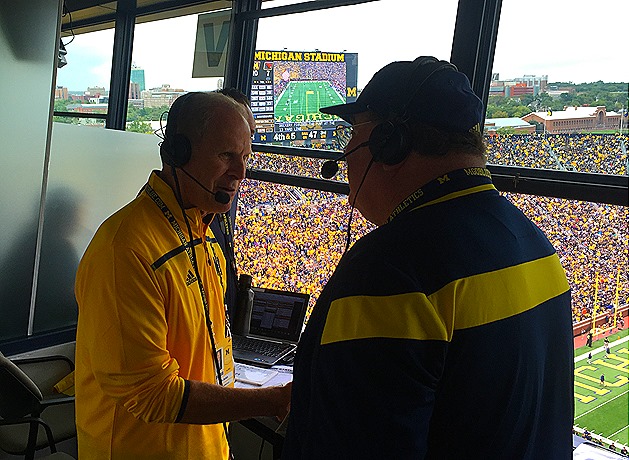 Follow MVictors on Twitter
Related: