During a 2011 press conference Michigan's Ryan Van Bergen talked about The Little Brown Jug and joked, "I don't think you'd want to drink any water out of that."  True, but even if you wanted to take a drink you'd be hard pressed to make that happened.  When I did my jug research a couple years ago it was easy to notice that the top is sealed off: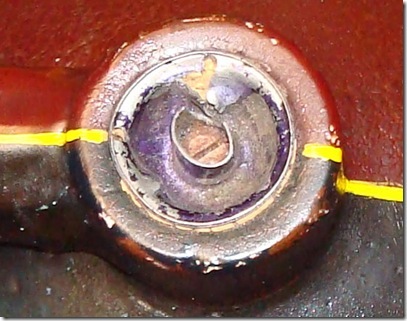 There used to be a cap and some ribbons affixed to the top, but at some point they were removed (and from the looks of it, torn off).  I asked Jon Falk about it a couple years back–he's not sure when exactly that happened.   It'll take a flathead screwdriver and some pliers to get that top off.  You have to want it.
Why Michigan Bought A Jug
So obviously at one point this did carry water for the team, but the truth of how and why it ended up on the U-M sideline in 1903 has shifted a bit over the decades.  In the early days of the Jug rivalry, it was widely believed that Michigan brought the jug & water from Ann Arbor, and further, some suggested it was because Yost feared the Gophers would attempt to spike/poison their water.   Of course years later Tommy Roberts revealed that he simply bought the jug in Minneapolis before the game.
While it's possible that Michigan wanted its own jug to keep enemy hands off the water supply, it wasn't a common practice for the Wolverines to carry water on road trips and it's doubtful that Yost feared any foul play from Minnesota.  The Wolverines were experienced travelers, including most notably a trip to Pasadena for the first Rose Bowl in 1902, and in fact found no advantage in bringing its own water to road game, and worse, it was a hassle.  Check out this quote from legendary Trainer Keene Fitzpatrick from just a few days before the 1903 jug game:
"Carrying water to which the men are accustomed on a trip is a big nuisance and of no practical benefit," said the trainer. "Once only, when the '99 team went to Philadelphia, was this precaution taken by Michigan, and then we didn't find that any advantage had been gained. On the long California trip the health of the team was not impaired by the change in drinking water."
-October 28, 1903 Michigan Daily [via John Kryk]
The last line implies they were actually more concerned about the changes in regional water (think about your last trip to Mexico), than with foul play.  But despite all that Fitzpatrick determined it wasn't worth it to carry water on the road.
That said, of all the Little Brown Jug tales out there, the one that seems the most believable is that Michigan did buy the jug to ensure they controlled the source of their water.  The 1903 game was HUGE – in fact Minnesota added extra security around their final practices to ensure no Wolverine scouts were watching.   Sure, poisoning seems extreme but after the game, Michigan Willie Heston's face was swollen shut and he claimed that Minnesota mashed him with their spikes throughout the day.  So, it's possible Yost did indeed fear some foul play–but unlikely.
Want more?  Read Little Brown Jug Lore.