Ann Arbor-based uber Michigan memorabilia collector Ken Magee has been busy on a couple fronts.  First, as follow-up to their successful book The Little Brown Jug that covered the history of the Michigan-Minnesota rivalry, Kenny has partnered with Jon Stevens again to produce The Game: The Michigan-Ohio State Football Rivalry (Images of Sports).  Like the LBJ book The Game run downs season by season in the rivalry using classic photos, clippings and memorabilia as a backdrop.  Stevens put a nice little FAQ together here.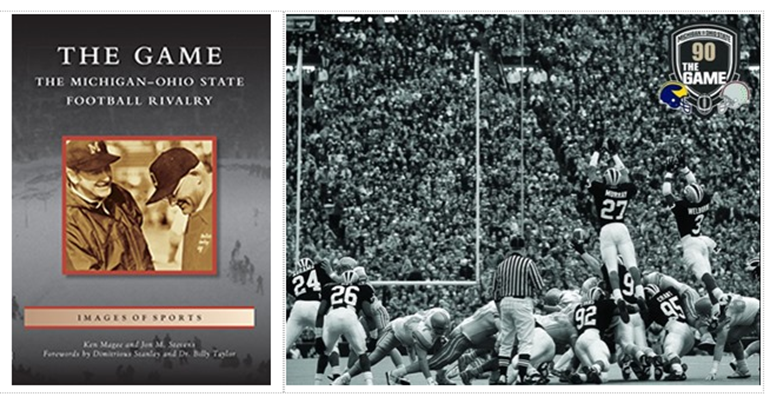 It's worth a spot on the bookshelf next to the personal Wolverine shrine in your den, office, bedroom or basement (yes, I know you have one).   While I didn't contribute nearly as much as I did in the Jug book in The Game, Ken and Jon did use a photo of mine from Harbaugh's opening press conference…but sadly not this one: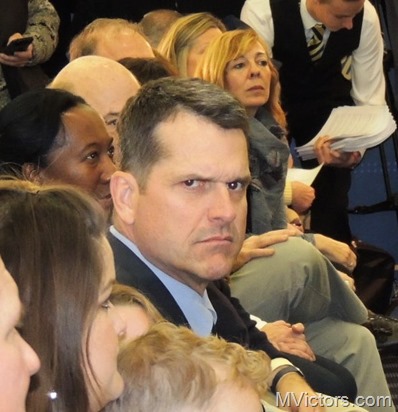 In other news Ken's Ann Arbor Sports Memorabilia shop is closing its doors.   After several years as a mainstay on Liberty, Magee's decided to close the current location at the end of September.  He may still have a presence somewhere, but we'll call that TBD for now.   The good news for you is he's dropped prices on a lot of the incredible stuff in his shop.  If you like M memorabilia it's practically a museum in and of itself.   Mention MVictors and Ken will give you a bear hug and a discount.   Ask really nice and he'll drop a magic trick on you.
Follow MVictors on Twitter