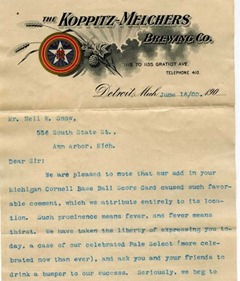 For Saturday's edition of This Week in Michigan Football History, we head back 112 years to arguably the greatest calendar year in Michigan football history. That's right I said it.
While that's up for discussion, there's little doubt 1902 was one of the finest for Michigan athlete Neil Snow.
On January 1, 1902, Snow tallied 5 touchdowns in the inaugural Rose Bowl.
Back in Ann Arbor my man Snow the undisputed was big man on campus #BMOC, and the folks at the Koppitz-Melchers Brewery of Detroit put an ad in the Cornell-Michigan baseball program telling everyone how much Snow loved their beer. Of course he didn't consent to the ad.
Here's how that all played out, as well as the game played on October 4, 1902:
Neil Snow Gets Beer - This Week in Michigan Football History
Play Now
|
Play in Popup
|
Download
The full story of the 1902 beergate tale here. You can catch all of the This Week in Michigan Football History clips here.
And don't forget to catch it live Saturday on the KeyBank Countdown to kick-off on WTKA 1050AM starting tomorrow at 3pm EDT (4 hours prior to Rutgers getting their butts kicked).
Follow MVictors on Twitter