[Ed. Originally posted Feb 7 2011, I'm moving this up front due to the 30th Anniversary]
If you haven't, take a look at the first post on the events & aftermath of the 1982 jailing of then-Michigan Daily editor Bob 'Wojo' Wojnowski and photographer Brian Masck in Columbus, the night before The Game that season.  Bob's 1983 opinion piece on all of this is one for the books.
You may have heard Wojo comment recall that night over the years, but I'm not sure how many people have heard from Masck—the guy who first stepped in to question (and photograph) the police before he was arrested.
Recently we swapped a few emails about those events and he shared some great stuff.  Other than to ask him about any lingering memories or collateral, I was generally curious why he had a camera with him after 1 AM on High Street the night before the game.  Of course you couldn't fit a decent camera in your pocket in 1982.
"I learned as a freshman that it was important to have a camera ready to shoot because, on April 18, 1981, I was the only photographer to capture the arrest of student/gunman Leo Kelly being led to a squad car in front of my dorm, Bursley Hall," Masck shared via email.   "Kelly was convicted in the murder of students Edward Siwik and Douglas McGreaham.  The photograph was published around the world.  So I carried a camera everywhere and tried to be prepared to shoot when news happened."
Here's Masck's photo of Leo Kelly during those horrifying days on campus: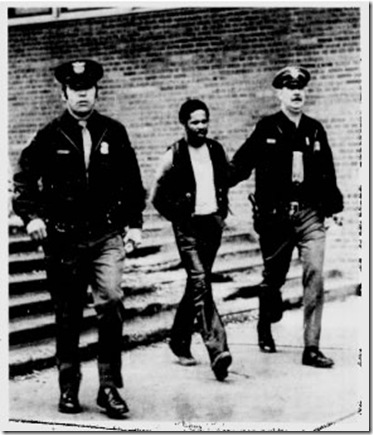 That's not the only Masck photo that's been seen around the world.  If you are reading this post there's a 99.4% chance you have a vague familiarity another one of his photos: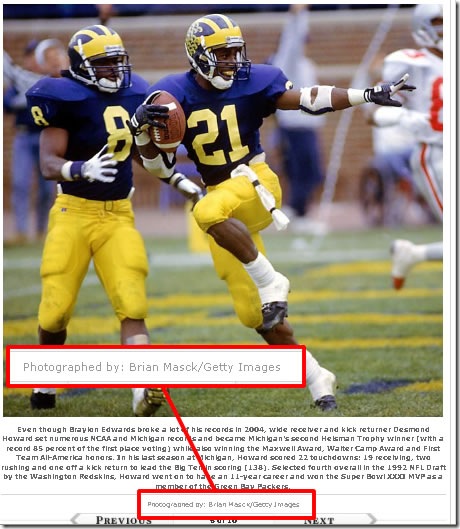 Thought so.
On that night in Columbus, thanks to the cops, Masck didn't get the shot he wanted.  But the police were concerned enough to seize the camera and arrest him despite the protests from he and Wojo who made it known they were journalists.
"Today, with cell phone cameras, that incident would have been on YouTube before we made it to the lockup," Masck told me.  "Boy, how technology has improved the sharing of information."
"On the other front, we continue to witness media arrests in insignificant things like our High Street arrest, but just last week in Egypt where an attempt to silence/blame journalists failed to produce the desired results.  Big events or small, the easiest target may be the journalist. Without images of an event and credible reportage, the truth can be easily hidden.  [It's a] struggle that won't likely end."
These days Masck is co-owner of Media Café Online, LLC a small Internet/Media company in Linden, Michigan—a safe distance from the jurisdiction of the Columbus police.
Related:
* Part I: Low Point on High Street (1982)
Follow MVictors on Twitter