It was an odd vibe before the game. While the atmosphere was a little more exciting than usual, probably due to the timing and the collective BAC, I asked few folks how they felt things would go in the game.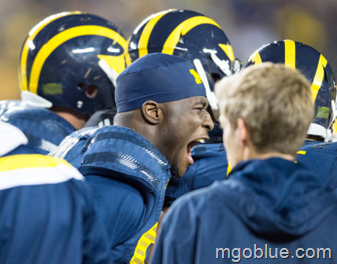 Usually folks narrow in on a player or two or say something like 'if we can just run the ball..' or 'if we don't turn the ball over..or whatever. Yesterday I got looks of confusion, bewilderment and/or just disinterest.
The problem is fans don't know up from down right now—the compass is broken, man. It's a bad place to be. Last night's win didn't fix that but damn, it was nice to walk out of there with a win.
Speaking of up from down, these things happened:
* Players wearing blue pants
* Punt returners doing choreographed pre-punt dance routines with personally selected music blasting over the PA
* MMB doing light shows
If you told me 10 years ago that these things would eventually happen in the Big House I would have hurled. Somehow last night each of those things worked for me (seriously). More below.
To the game: Quick props out there to CAPTAIN Jake Ryan for getting better each week and leading the defense in putting up an inspiring performance. And to Matt Wile for drilling those crucial field goals that proved to be the difference out there. And finally to Devin Gardner…thank 98 if you see him about town. He was clearly hurt but sacked up and made it back out to finish the game and make the next two weeks tolerable.
Arena:
* No boycott – While there was talk of a pregame boycott there clearly was no boycott. John (Captain Torso) Navarre went on WTKA pregame & urged students to not do it. In fact the student section was a filled up early as it's been all season. I'm glad the students showed en masse.
* Section 23 Bo – This is great. The usher all the way atop section 23 (50 yard line on the west side) affixed a Bo-bblehead doll to the wall outside the Regent's box. I love it: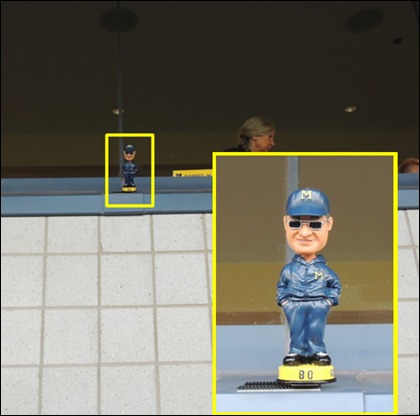 I know some of you want to stick something else outside the Regent's box but please…maintain your dignity.
After the jump – Pomp, Uniforms, Tunnels of Love, MMB Killing it, Norfleet, MORFleet, More, more..