[Ed. Originally posted November 2012.  IMHO, one more solid read/listen prior to kickoff.  Invest some time to listen to these clips – I think you enjoy it:]
I mentioned earlier this week that Ira and I recently sat with Coach Moeller, who will be honored Saturday at Michigan Stadium, in studio at WTKA.  This was my favorite part and it's something I've been wanting to do for a long time.  We methodically

stepped through the headset audio from The Catch (recall that the athletic department released it last year in the UTL ND game program).
As a bonus – I've included a second clip of the man on the other side of the field.  Writer John Kryk interviewed Lou Holtz for his book Natural Enemies, the definitive tome on the U-M-ND rivalry, and he was kind enough to share this clip from his archives.  It's Holtz discussing the defensive play call and their strategy.   It's a little scratchy but I sent it over to Ira who cleaned it up a bit.
The Moeller clip is over 17 minutes long so give it a chance to load up and we cover just about everything that is said on the recording and more.  Holtz is just over a minute (that's Kryk asking the questions).
1 - Gary Moeller breaking down The Catch - 1991 Notre Dame-Michigan audio
Play Now
|
Play in Popup
|
Download
2 - Lou Holtz breaking down The Catch - 1991 Notre Dame-Michigan audio
Play Now
|
Play in Popup
|
Download
A crude diagram: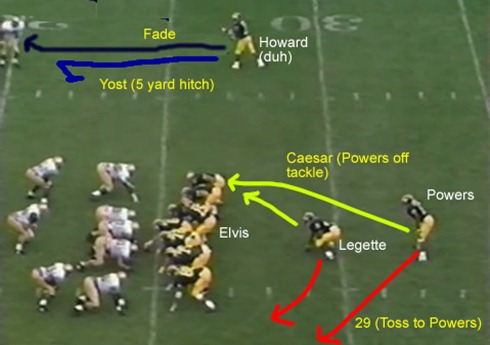 What you can't see is the Irish safety, who is back and over on the left side of the defense (toward Desmond) but immediately goes to double cover Howard when the ball is snapped. More »