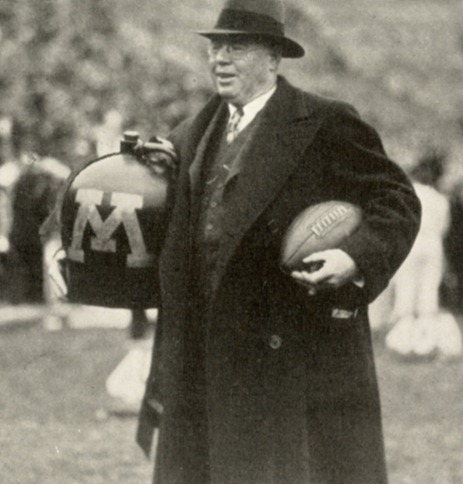 I call this "Willie with Jug and Pigskin"
Most U-M fans (both U-Ms, I suppose) know the basic jug story. Before the 1903 game between the two schools in Minneapolis, Fielding Yost dispatched U-M equipment manager Tommy Roberts to purchase a five gallon Red Wing water jug. After the brutally fought game of the undefeated teams ended in a 6-6 tie, Minnesota's equipment manager Oscar Munson found Michigan's jug and decided to keep it as a souvenir. When the Wolverines returned to Minnesota in 1909 the teams agreed that the winner should take the jug—and the victor of the game has retained the precious crock ever since.
That part of the story is pretty well established. But outside of that, there are still many misconceptions about the history of the jug and the rivalry that persist today. Here's at five common myths..along with a discussion of the reality.
Myth #1: BROUGHT OR BOUGHT?
The Myth: Common lore suggests that U-M bought the jug because they feared Minnesota would try to "taint" Michigan's water supply.
The truth of how and why the famous jug ended up on the U-M sidelines in 1903 has shifted around as the decades have passed. In the early days of the Jug rivalry, it was commonly understood that Michigan brought the jug and its own, familiar water from Ann Arbor. Furthermore most believed it was Yost feared the Gophers would attempt to spike their water. Decades later Michigan's equipment manager Tommy Roberts revealed that he simply bought the jug in Minneapolis before the game and filled it with water in Minnesota.