The big takeaway from the trip to Minnesota was of course the appearance of beer inside TCF Bank Stadium:

The topic of beer and Michigan football has certainly crossed paths in the past and heck, one of the leaders and best in the U-M blogosphere even adopted a suds-inspired name.   On these pages a couple eBay Watch features have features former U-M players in beer ads, like this 2010 post on the Old Style beer salute to Crazy Legs Hirsch, and a favorite of mine, this beauty from 2008 with Schlitz teaming up with Old 98 Tom Harmon and going for the gusto: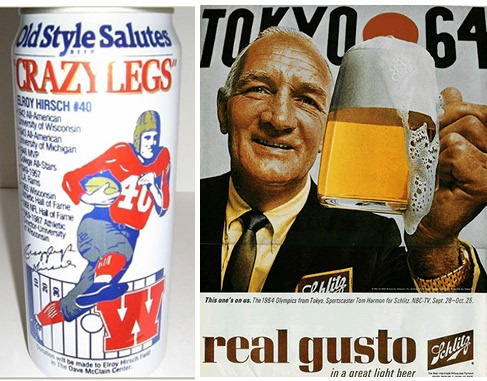 So let's rewind to 1902 to the great tale of them all–and a huge thanks to U-M memorabilia collector Mark Bomia.   Apparently the program to the June 13, 1902 Michigan baseball game against Cornell held in Ann Arbor included an ad that struck a nerve with the captain of Fielding H. Yost's perfect 1901 squad, Neil Snow.   Snow is probably best known for tallying five (5) touchdowns in the first Rose Bowl:
Captain of the 1900 team and starting fullback for the 1901 squad that climaxed an undefeated season under rookie coach Fielding Yost with a 49-0 victory of over Stanford in the first Tournament of Roses game, January 1, 1902. Snow rushed for 107 and scored five touchdowns in the game. Chosen All Western end four seasons, 1898-1901. He was inducted into the Football Hall of Fame in 1959 and is also a member of the Rose Bowl Hall of Fame.
Snow also lettered on the track and the baseball team and apparently, while off the field, he loved himself some of Detroit's own Koppitz-Melchers beer.  Somehow the folks down at the brewery got word of Snow's thirst and placed an ad in the 1902 Cornell baseball program saying as much.   Of course Snow, still a student at the time, was neither contacted about this and didn't consent to the ad…so he wrote dropped this wonderful missive on the folks at Koppitz: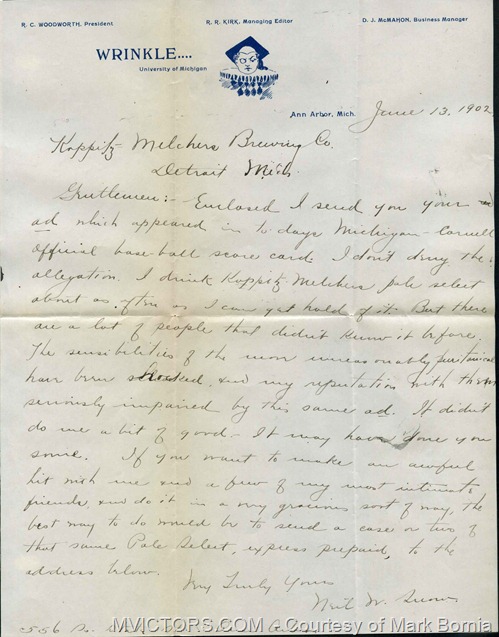 The above transcribed:
Gentlemen: Enclosed I send your ad which appeared in today's Michigan-Cornell official base-ball score card. I don't deny the allegation I drink Koppitz-Melchers Pale Select about as often as I can get hold of it.  But there are a lot of people that didn't know it before. The sensibilities of the more unreasonably puritanical have been shocked and my reputation with them seriously impaired by this same ad. It didn't do me a bit of good.  It may have done you some.  If you want to make an awful hit with me and a few of my most intimate friends, and do it in a very gracious sort of way, the best way to do would be to send a case or two of that same Pale Select, express prepaid, to the address below.

Very Truly Yours
Neil W. Snow.

556 So. State St.  Ann Arbor
So that's awesome and it gets better.   Bomia even has the response to Snow's plea from the folks down on 1115 to 1135 Gratiot Avenue: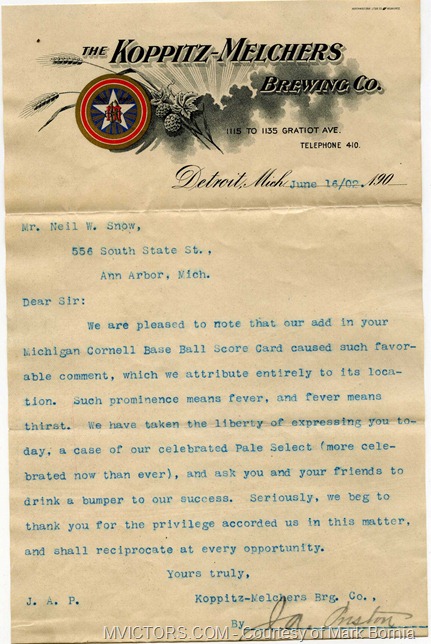 So the takeaway here, and the lesson here for younger readers: what's important is that everyone involved did the honorable wrong thing.
Again, thanks to Mark for passing this along this little slice of Michigan lore – you can check out more from his collection here.
Follow MVictors on Twitter 
P.S. Unfortunately I'm not sure if the original Cornell/Snow ad exists, but here's a vintage look at a Koppitz-Melchers Pale Select spot: