Today on 1050AM WTKA "Touchdown" Billy Taylor was studio to promote the Perseverance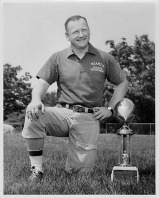 documentary.
I mentioned in my review earlier this week that one of the outstanding stories in the movie was about the recruiting trip BT and Thom Darden made to Oxford to visit Miami, OH and then coach Bo Schembechler (inset photo via the U-M Bentley Historical Library):
* Thom Darden talking about how the recruiting trip he and Taylor made to see Bo Schembechler while he was still head man at Miami, OH.  (Bo didn't exactly wine and dine them).
This morning TDBT provided some more hilarious details on that trip to see Bo, and the aftermath, and it's priceless:
Billy Taylor on WTKA 1050AM discussed his recruiting trip to Miami, OH
Play Now
|
Play in Popup
|
Download
For the full interview this morning check out the WTKA podcasts.
Related:
PERSEVERANCE – The Story of Dr. Billy Taylor premieres Friday 11/16 in Ann Arbor
Follow MVictors on Twitter