A quick rundown of who voted for Michigan in this week's AP poll which of course doesn't really count toward anything but people like to talk about it: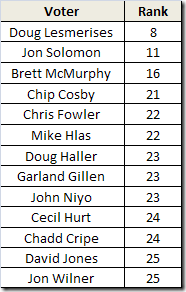 I don't know if Michigan is worthy of any of this, but I give these guys credit.  They did what most pollsters fail to do—they apparently crumpled up their preseason ballot and voted based on what they've watched on the field, how novel.  Here's the guys who jumped Michigan into the top 20:
Doug Lesmerises – Cleveland Plain Dealer (Newspaper)  <—wow.  This OSU/Michigan love lingers in the aftermath of the moving-The-Game near debacle.
Jon Sololmon – The Birmingham News (Newspaper)  <—In Birmingham they love the Shoelace.
Brett McMurphy – AOL FanHouse (On-line)  <—Brian Cook's old haunt.
And props to U-M grad Niyo.  I owe him an Underground Printing O'Sullivan's Mug Club shirt next time I see him.