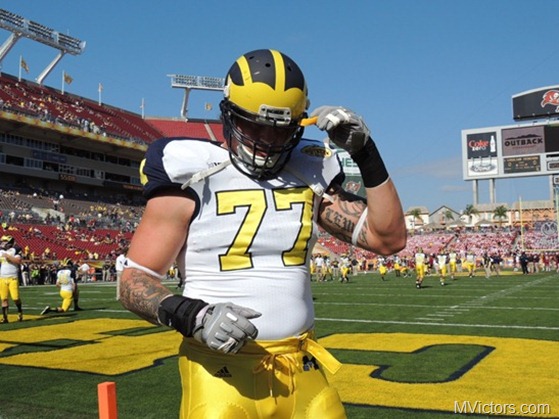 Shocked.
Even the hardest cynics have to view this as evidence there still is something special and unique about the Michigan football program.   I love that this happened.  I like how Lewan described how he came to the decision and involved Jake Long.  And FWIW, I like that our coach won't be interviewing with the Eagles (ever).
Now—while on the topic of cynicism–I do get the sense the Lewan likes to be in the spotlight and that might have had a little to do with this.   He'll get a lot of attention next season and probably more beyond.  [Ed. 1/11  yes, he likes the attention:]
"I like attention," he said. "I'm an attention guy. I LOVE the attention."
How far beyond?   If he builds on the Outback performance and is the consensus All-American and earns a top 5 NFL draft pick, you have to wonder if #77 is considered for a Legends distinction down the road—honoring Jansen, Long and Lewan.   Either way, he's got a chance to establish himself amongst guys like Long as a truly iconic Michigan vet—something you really can't take away no matter what happens in the NFL.   And that's a special thing, especially at Michigan.
Follow MVictors on Twitter