[Ed. This was originally posted November 3, 2010, but had to deliver this Update]
Update October 7, 2011:  Thanks to the generosity of fellow collector Ken Magee [of Ann Arbor Sports Memorabilia], there is no longer a hole in Jack Briegel's home ticket collection.   Apparently Magee decided he want Briegel to have it and left the elusive 1943 'Michigan State' ticket stub on his porch last Friday.  What a kind gesture.  I'll surely do a follow-up on Magee and his collection sometime soon. Here's the original story for context:
Original Post:
I obviously check out eBay somewhat frequently for the purposes of writing this series but this time I thought I'd introduce you to someone who's a pro in the memorabilia game.
This month for GoBlueWolverine Mag I submitted a piece on Ann Arbor resident Jack Briegel and his extraordinary collection.   His focus is on ticket stubs and get this, of the 517 games played at Michigan Stadium to date, Briegel has a full ticket or stub from all of them but one.  That's right – he's missing 1!
That elusive piece of the puzzle?  A stub to the 1943 game against Western Michigan.  Briegel has a slot waiting for it: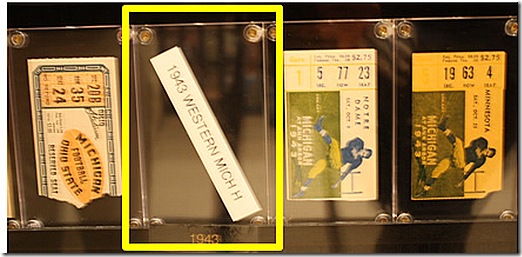 The ticket to that September 25 game actually lists Michigan State as the opponent.   But the Spartans did not field a team that season as it was common for teams to shut down their football squads that year due to obligations to the war effort.  Folks seemed to have better things to do that fall day as just over 14,000 bothered to show up, and apparently it wasn't memorable enough for many fans to bother to hang onto their stubs.
Certainly a few tickets to that game exist.  According to the records at ticketmuseum.com, a gent named Ken Magee owns that rare ticket and here's a look: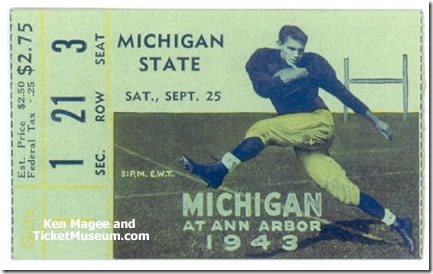 Briegel's not the only one taking on this quest.  Collector Dennis Dail of Bloomington, IL is also going for the ticket gusto, missing a mere 8 of the 517 home games:
1945 – Great Lakes
1944 – Indiana, Iowa Pre-Flight
1943 – Mich St., Indiana, Wisconsin
1928 – Ohio Wesleyan
1927 – Ohio Wesleyan
That '27 Wesleyan game is of course the first ticket to the Big House and very tough to find, in fact, it's probably Briegel's favorite of all the stubs adorning his walls.
Of course if you have that elusive '43 MSU ticket or anyone from Dail's missing set sitting around let me know.
Coincidentally there's quite a few rare tickets up on eBay, you can check out those auctions here: