We Michigan fans love our maize and blue gear and our clever T-shirts but beware: quite a few Alabama fans are on a different spiritual realm.   
Take The Bammer here, as seen before the 2011 Capital One bowl against Michigan State: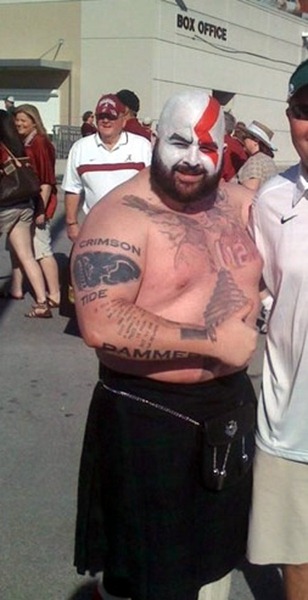 HT to @DaBangStick for the photo
Having face paint and kilt is one thing, but the tattoos are obviously around 24-7.   That's dedication.
After this photo was snapped Bammer grabbed my bro, a Spartan fan, and told him, "Now ya'll take it easy on us, ya hear?" and he winked.   At that precise moment my brother's pregame tailgate-infused glee and optimism was wiped away and he knew his Spartans were doomed.   Doomed.
Avoid The Bammer.  Go Blue.
2000 Orange Bowl
I've had my own run in with Alabama fans, namely at the Orange Bowl in Miami.  Bullets:
* I remember the Alabama fans being pretty dang annoying (not that we Michigan fans aren't).  When we won the game on the missed extra point I got the double whammy of the euphoria of a huge Michigan victory alongside the devilish joy of schadenfreude.
* Speaking of winning on the missed extra point.  I've heard a few folks, looking back, telling me something like, "Yeah, great game but too bad that game ended that way.."  I totally disagree with this.  I don't feel it was cheapened by how it ended. Those extra points in overtime are high pressure kicks.  It takes 11 guys to execute especially the kicker, snapper and holder.  We made ours.
* Tickets.  There's always a false feeling that tickets to these big road games are scarce.  Certainly it applies to some games – 1998 Rose Bowl obviously, for one.  But man, you literally couldn't give tickets away to this game once you got there.  One guy with me circled the stadium (and got lost—damn you perfectly symmetric stadium!) for an hour and couldn't get rid of them.
Prediction?  Bammer's revenge: Make it Alabama 32, Michigan 13
Follow MVictors on Twitter