October 7, 2006 marked the annual renewal of the Michigan vs. Michigan State football rivalry. Typically this would have been one of the busiest days of the year for former WTKA radio host Dennis Fithian, but he was not in Ann Arbor that Saturday.
He was instead about 40 miles down the road at Comerica Park for his new employer WXYT 'The Ticket' radio. Somewhere during the second half of the 31-13 victory over MSU, the Detroit Tigers were finishing off the favored Yankees 8-3 for a trip to the World Series. Fithian was there to cover it all for his new station.
In the brutal world of sports radio, things have worked out well for Fithian. Each one of the Detroit-area stations in that market have seen significant turnover in the last couple years, WTKA in particular.
The very popular former Ann Arbor drive time host was kind enough to speak with MVictors about radio, Lloyd Carr, Drew Sharp and even about reheating pizza. Here you go:
MVictors: Let's get right into it. Do you have any ill will toward WTKA for the way your departure was handled?
Fithian: There's no ill will whatsoever. A lot of people thought I was let go because of comments about the basketball program, especially when they didn't make the NCAA tournament that year. I said a lot about that and definitely had some criticism but it had nothing to do with the change. They brought in some new management and that's radio. There's no ill will. I loved my time there, and WTKA gave me a chance to move up.
I would have stayed there forever. Looking back I guess there was only so high of a ceiling. At the time I would have stayed there covering Michigan football, basketball, going to the games, being with the fans…they didn't even need to pay me!
MVictors: Former WTKA morning host Dave Shand was fired a year later claiming AD Bill Martin ordered his dismissal. He's now suing the AD. Did you ever get any pressure from the University to temper your on air comments?
Fithian: Not really. No one ever walked down to the studio and told me that I was too heavy handed or whatever. But you know who your business partners are. You have to realize this and know that there is a line. No one ever had to tell me that and there was never any pressure.
MVictors: Are you following the Shand case at all?
Fithian: I'm keeping tabs on it. Dave Shand [laughter]…there are no other Dave Shands in the world. Anyone who's listened, worked with or met him knows that. He loves law, he loves sports and he loves Michigan, and he's got deep ties to the University and the athletic program.
As for what happened, it was predictable. [The clash with Martin] is not surprising if you know Shand. A guy like that is going to tell you exactly how he feels and not going to be worried about what other people think. That's Dave Shand. He has his own personality and in his own way. As far as the suit, I really hope it works itself out and goes away.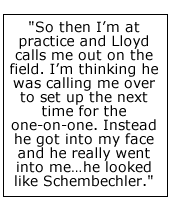 MVictors: What's the highlight of your time at 1270/97.1 so far?
Fithian: It's all been a big highlight. No disrespect to WTKA but moving to 1270 was like going from the minors to the majors. In 2006 I was assigned to cover the Tigers. On the day of games we'd get down there at around three for a 7 o'clock game and I'd talk to Jim Leyland then chat with the players… it's a great job. And on top of that the way things went that season, it was like a dream.
MVictors: I recall that Coach Carr had some nice words for you in a press conference after you left WTKA. Can you talk about what that meant to you?
Fithian: Lloyd is a great man. He's loyal, he's dedicated and I really like him. It meant it a great deal to me.
When I first started at 1050AM I was assigned to cover the Pigskin Classic against Virginia which was also Carr's first game as head coach. From then on I was there for home and away games and over time you start to get to know the coach. We did one-on-one's for WTKA in his office in Schembechler Hall. The first few times I'd sit down on the couch in his office, we'd do the interview and I'd go home. As the years went by it got more personal and he'd start to ask things like "how's work?" and stuff like that.
His number one care was for his players and for Michigan. I cared about Michigan but I had to be sensitive and fair to my radio audience. We crossed each other a couple times.
MVictors: Are there any particular incidents you can share?
Fithian: One time I was quoted in The Wolverine saying that I thought the defensive coordinator should have been fired, and that he would have been fired had anyone but Lloyd Carr been coach. Written words carry more weight than what I say on the radio. And in The Wolverine, they blew up the quote.
So then I'm at practice and Lloyd calls me out on the field. I'm thinking he was calling me over to set up the next time for the one-on-one. Instead he got into my face and he really went into me…he looked like Schembechler. He tore me up for five minutes in the middle of the practice field.
The funny thing about Lloyd, you hear all the time that he doesn't pay attention to the stuff in the media and newspapers, but he definitely has other people who do that for him! Two days later I saw him and we worked it out. He explained that he had to stand up for his coach and I did understand that.
MVictors: I recall that Coach Carr also allowed you to broadcast from a spring practice, something that had never been done here in Ann Arbor. Can you talk about that experience? How did you find out that Carr was going to allow the access for you?
Fithian: I would constantly call the Michigan sports information department and ask them if we could interview a player, or if I could go to a practice or whatever. I'd call like three times a week, all in all I probably made like 1000 requests. Finally one day the SID's office called and said Lloyd wants to know what I thought about broadcasting during the practice. NOBODY gets into practice. He opened it up for us and it was great and I felt like we did a cool thing for the fans. We got to see everything.
I remember it was a windy day. At one point we didn't think we could broadcast due to the conditions and Lloyd came over and asked if we wanted to use his office. He had a terrace overlooking the field. We went up there and I loved it.
MVictors: I heard you recently co-hosting a show with columnist Drew Sharp. Anything you can tell us about the man that might help fans understand where he's coming from?
Fithian: I have done a few shows with Drew. Years ago I called him "wasted space" and I would never read him. He did nothing but fire me up. I just thought he was a contrarian, always negative…a Michigan grad just looking to pounce on Michigan.
Today's media want people like this. They want people that get fans fired up. I mean, they're flying him to go on the Jim Rome Show and things like that. Strong, polarizing opinions is what they want and he's great at that.
People think he waits and sits around with a knife. I hate to tell people this [laughing] but he's really a good guy. He's got strong opinions but he'll listen to people's points. I like him. If we were doing this interview 10 years ago I wouldn't be saying this. He's one of the most successful at what he does and I can tell you one thing: he's not going to change.
MVictors: Any concern about the rocky transition to find a new coach?
Fithian: Well, I think it was predictable. Michigan football was going one way for almost 40 years with Schembechler, Moeller and Carr. When you try to transition out of that it was going to be rocky.
As far as the stuff with West Virginia – they're just a jilted lover. And you know what? The other night at the Bobby Dowd award banquet, Carr wished Rodriguez luck and all the best.
There's still a lot of people out there that played for Bo and were pulling for Les Miles and they are still upset. A lot of people wanted to use their power to influence the hire. You hear about how it's about the team but not everybody was on the same page. Looking back this power struggle was predictable. And as far as Rodriguez, I like him.
MVictors: Based on a reader poll, I'd put the over/under on Michigan wins in 2008 at 8 ½. How do you see things playing out ?
Fithian: I think they're going to struggle and as a fan I don't want to say that. I've seen a lot of college football teams that go out there with an inexperienced quarterback and have a tough time. Remember when Navarre was starting out and headed on the road to UCLA? It was a disaster. My head's telling me it is going to be a rough go next season, especially early on. Under.
MVictors: Do you think the proliferation of blogs, message boards, etc. has changed your business at all?
Fithian: I love anybody that is passionate about sports especially about Michigan Football. You hear folks in the media talk about how 'this blog sucks' or 'that guy can't write', but I could talk about Michigan 365. As a fan I like all the blogs and the posting boards. It doesn't surprise me that there are so many related to Michigan because of the passion.
It's changed the business. The print media hate bloggers because they are above the rules for things like sourcing and all that. But they pay attention to the bloggers – you've got to look at it. And anyway, the blogs and the boards just reflect what everybody talks about at the tailgates.
MVictors: I've heard that you've got a method for reheating pizza that involves putting it under the faucet and throwing it in the microwave. Is this true and did you develop this method?
Fithian: I was turned on to this by someone who, like me, had a great love of food. It may have been a caller. It's not the most effective method but it's the fastest. The best is reheating it in the oven but that takes 20 minutes. Just put the pizza under water and after a few seconds in the microwave you are set.
MVictors: Finally, are there any career goals you can share? Are you looking for a morning or another drive time slot? You were the voice of Michigan women's hoops while at WTKA; are any plans to do play by play in the future?
Fithian: Maybe all of this! Check back tomorrow. I'm excited working from 6-10pm with Pat Caputo. And being on the FM dial, for Sports talk in a top 10 market is unique and really cool. I love play by play, but right now I couldn't think of a better slot for me. We've got the Pistons and Wings heading into the post-season, there's excitement again with the Tigers and even with the Lions. I'm in a perfect spot.

You can listen to Dennis Fithian 6-10pm on WXYT 1270AM or 97.1FM in Detroit, or anywhere in the world streaming from The Ticket's website. The site also has podcasts available for download.