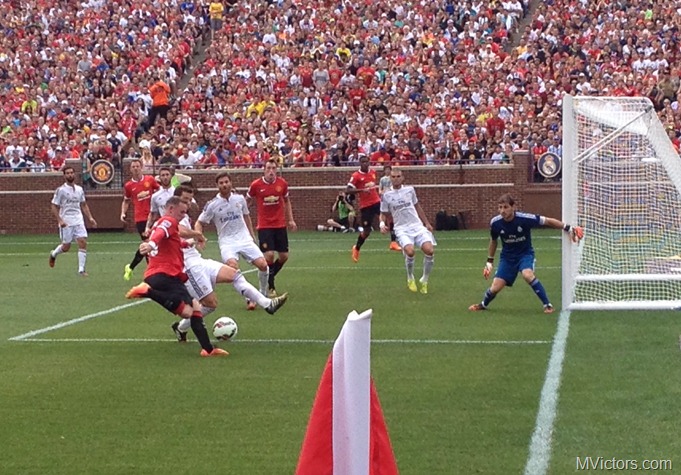 Rooney turns on one in the first half (MVictors photo – that's me)
I joined Ira and Sam this morning on WTKA to breakdown a few observations from Saturday's match up at the Big House, if you missed it:
Talking Manchester United vs. Real Madrid at Michigan Stadium - WTKA 1050AM
Play Now
|
Play in Popup
|
Download
Quick hitters:
Awesome event. For all the beatings #1000SSS has taken lately, hats off to Hunter Lochmann and Dave Brandon for putting this together.
Strongly feel we need to keep using this facility for events like this. As I told Ira and Sam, Fielding Yost would have loved this.
I was naive to think there'd be a big overlap between Michigan football fans and this event. Wrong, this was a completely different crowd and demographic. Evidence:

The traffic mess..but not because NB Ann Arbor-Saline was closed. It was because of the noobs. From the east folks figured the best way to get to the stadium was down M-14 to downtown. From the south, the masses went to the Washtenaw exit off of 23 – which IIRC is where the signs tell you to go. Yikes. Backups started 3-4 hours before the game.
The Wave..your old lame friend The Wave was spun up in the first half but..it was actually kind of cool. No, not because the wave is cool, but because unofficially 99.4% of the crowd participated and screamed like girls. It felt like 1989.
Languages..circling the field I think I heard 7-8 different languages.

Newsflash: Ronaldo is indeed one handsome cat. And it was pretty cool when he stepped down on the field to warm-up – place went nuts.
I assume purists were worried if these players would go hard, given this was an exhibition. I thought the players played really hard – Rooney was barking at the refs and his teammates the entire time he was in. There were a couple dangerous 50/50 balls that guys sold out on.
Chatting with someone from the athletic department, the biggest logistical challenge on the day was the halftime show. Looks like they pulled it off. I was in the tunnel when they dragged that stage off the field – there were about 4 feet on either end of the stage as it creeped up the tunnel.
Photos from Friday's practice here.
Follow MVictors on Twitter