[Ed.  File this under "had to be there" to appreciate this but so be it.]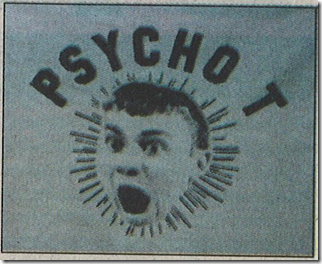 Photo: Terrible Pass
One of my pet peeves during games are the fans the choose to scream out their special messages to the coaches and players the entire game.  Especially annoying are those that do this despite being ridiculously out of earshot of anyone actually participating in the game.  This isn't cheering or chanting or singing—it's a dude trying to draw attention to himself.  I've pointed out a few of these incidents on these pages; it happens all the time and it drives me nuts.
I was up at Ford Field for the hoops final on Monday night and once I sat down it was clear I had one of these guys behind me.   From what I overhead, I believe he was from North Carolina and I think he went to N.C. State (although my brother says he was wearing a Duke shirt).  I'm confident he came up here with the sole purpose of taunting the Tar Heels.
As soon as UNC comes out the locker room he's belts out a massive "BOOOOOO!!".   When Tyler Hansbrough gets a foul or misses a shot he screams, "TYLER GIRL!!!".   Each time Hansbrough touches the ball he yells, "HE'S TRAVELING!!".    The game was out of hand after five minutes and now I'm condemned for the next couple hours with this freak behind me.
Then something happened that's never happened before and I don't think I'll see it again—the guy's incessant screams turned from annoying to funny.  It might have been the brutal game on the court, maybe it was a need to give something to the Tar Heel fans who were, of course, going crazy.  I don't know.  But with a few minutes left in the first half I started giggling each time the guy tore into Hansbrough.
The highlight came in the second half.  Like I said, this guy is begging the refs to whistle Hansbrough for traveling the entire game, and finally he gets the ball at the top of the key and shuffles his feet.  You can make out a faint whistle and you can see the ref starting in on the traveling motion.  Keenly aware, the heckler says to himself, excited as anything, "OH THEY GOT HIM!!!". I think I spat out some of my drink laughing.  Then my man starts right back in with "TYYYLLLLER GIRRRRRRL!!".
I hadn't heard that "Tyler Girl" before but figured it was a common chant in the ACC.  I Googled the phrase and found this article on the Fayetteville Observer's basketball page.  An excerpt:
More than an hour before tip-off Saturday, N.C. State senior Matthew Fegley saw Hansbrough emerge from the tunnel for pre-game warm-ups and welcomed him with a very playful yet somewhat hateful barb.

"Tyler Girl!" Fegley yelled, coining his own new nickname. "Hey, Tyler Girl!"

"He's just so arrogant," Fegley said, trying to neatly package up his animosity. "And he's in his own little world out there. He doesn't play all that well with his teammates. And he loses a contact lens every fifth possession."
Could it be that I sat in front of Mr. Fegley, a Tyler-taunting legend?  To Mr. Fegley, consider this an I.O.U. for a cold one (or some sweet tea) next time you are up in Ann Arbor.
Elsewhere:  There were a few U-M representatives in the house.  I saw Terry Mills and of course many of the Fab 5 were hanging out.  Another guest was former Michigan coach and current radio analyst Bill Frieder who was a guest of Tom Izzo.  He spoke about it before the game with WJR's Mitch Albom:
Frieder on Mitch Albom
Play Now
|
Play in Popup
|
Download
Note the jab at Bo and the Michigan Man comment a couple minutes in.  Not cool Frieder!