According to AnnArbor.com, 95 of parking tickets dished out during last Saturday's Spring game were voided after fans went berserk.  
There are special rules enforced on home game Saturdays each fall and cops applied this policy last weekend.  Via Ryan Stanton's piece on A2.com:
Several cars parked on the side streets near Michigan Stadium were ticketed for being in areas where parking is prohibited on game days. Whether the spring game was considered a football game was up for debate, and city officials agreed after some protest that the city didn't make clear how it would enforce parking this past Saturday, [city administrator Roger] Fraser said.
The city said it's "likely" to enforce the gameday rules next Spring game and will work to communicate the policy a little better.   Based on this comment from supervisor Mike Rankin, they've got some work to do:
…it's important to enforce no-parking restrictions on side streets around Allmendinger Park because it's a residential area, and problems have occurred in the past due to the size of the crowd. Also, team buses need to get through the area.
Team buses for the Spring Game?  Umm, maybe he means the tailgate buses?: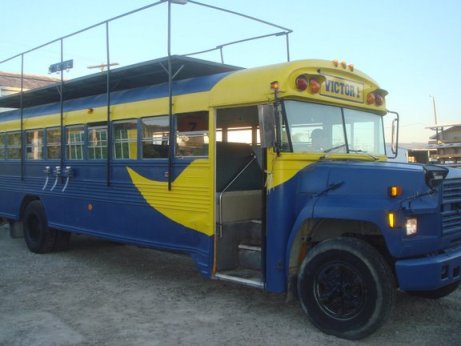 Often the comments on the sports posts on A2.com are horrible (Rich Rod sucks! /  You're no fan!)  but these are worth a read, a sampling:
DeeDee: Once again the city of ann arbor knuckles under to the sports establishment…
Pete Warburton: It is hard to get information to public when a city does not have a newspaper…Zing
dogwalker: All that wasted revenue. To get it back, why not ticket all the all the football fans who walk the railroad tracks every football Saturday? Lots of money to be had there!
markguy ….I'm pretty sure the team walked from the practice facility to the stadium this past Saturday. If they took buses then RichRod really is insane.