Another classic night up at old Yost. After surrendering an early goal to the Spartans, the men in Maize never looked back, dominating the puck and tallying six unanswered goals beating their rivals 6-1. Other than the Wolverines' offensive awesomeness that chased Spartan goalie Jeff Lerg to the bench late in third period, the game was defined by a handful of scrums that sent two Spartans home with game misconducts.
Minutes after one of the Spartans was tossed, the Yost crowd participated in the annual Teddy Bear Toss, where fans pepper the ice with plushy toys for kids at Mott Hospital. After the bears were tossed (highlighted by with a half dozen impressive tosses from section 22, row 12 up and over the protective netting by MVictors guest columnist BiggieMunn), scraped from the ice and counted, the kids of Mott walked away with a record 1272 toy animals. The loot: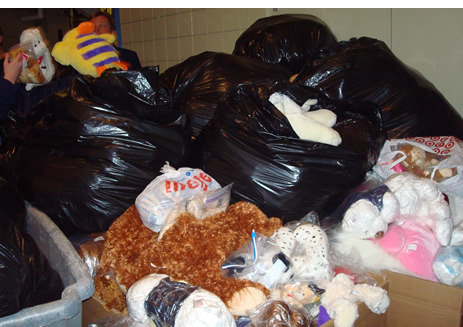 But not so fast my faux furry animal loving friends. While counting isn't an exact science, methinks they probably missed a few toys that didn't make it to the icy hardpan below. A few generous fans had big hearts sadly backed up by girlie-man chicken arms: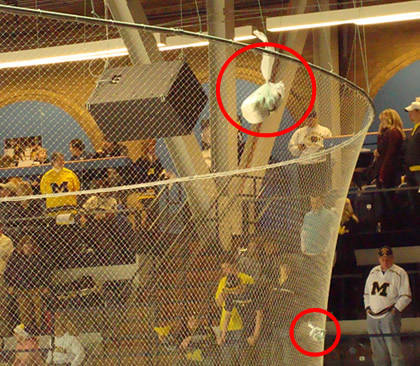 Once the Yost Arena crew fish these out of the netting I'm guessing that'll bring the final tally to around 1278.
Related:
– Michigan 6, Michigan State 1 [Yost Built]
Michigan vs. Michigan State Hockey fight [YouTube, not from last night]
Live Blog: Hockey vs. Sparty, 12/5/2008