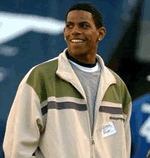 NBC just noted that recruit QB Terrelle Pryor donned a Michigan sweatshirt before the U.S. All American Bowl, although the network noted it was in an effort to get the goat of the Ohio State recruits. Oh and yes, he's pretty good…as in unstoppable.
McGuffie is out there is well and despite showing some flashes of speed, his size makes him look a tad out of his league. I probably would have said the same about Mike Hart (or Jamie Morris) in high school so whatever. And of course I don't think Hart could do this!

UPDATE: Shucks, Pryor won the player of the year award and the game's MVP. And McGuffie ripped off a nice run near the end of the game.