What we learned:
Not much. But we were sure reminded that Michigan weather can be brutal. Not that any visit in mid-January would yield bikini-clad co-eds mud wrestling in the Diag, but weather couldn't have been worse. I stepped outside for 30 seconds on Saturday to get the mail. Once the wind hit me I went scrambling back to my car like a little girl. All the drinks in my garage froze. It was a harsh Michigan weekend. Maybe not quite as cold as in Green Bay but pretty close. It is hoped that he got to see some of the town and the facilities. The net? He's from Pennsylvania so I don't think this is a big deal for him.
We did learn that the text message is king these days. It was reported that TP text'd an AP reporter and commented that on his visit, "It's Cool". It's unclear whether that was a comment on the quality of the visit or the temperature in the air. It's amazing to me that a) an AP reporter has Pryor's cell phone number, and that b) Pryor knew the writer enough to respond to his message. We also learned that Rich Rodriguez has some pretty big paws and that Barwis gave a solid presentation on the direction of the strength and conditioning program. Here's more on the visit from Michigan Sports Center.
All this said – I'm kind of indifferent on getting the guy. Would obviously rather have him on our sideline than not, but all of the hype around this is a bit unsettling to me. I'd like to see how this town reacts if he ends up going to play in Columbus. Me? Won't really care. I'd rather spread ridiculous hype around what we have in hand:
Elsewhere: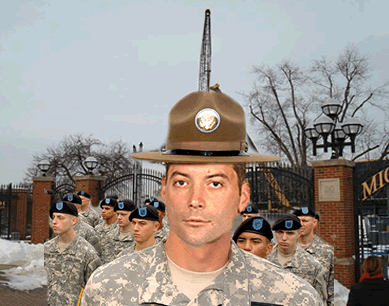 While the Pryor was enjoying the hoops games, apparently bad-ass strength coach Mike Barwis took a few of the players at for a little jog in their t-shirts in the sub zero air. A reliable source sent me the stealth photo (above) and some audio from the run:
Barwis leading workout run
Play Now
|
Play in Popup
|
Download
.