A few hours after that 38-0 beat down on the pathetic Coach Weis-led Irish, just a few thoughts:
– Mallett was good enough but this team needs Henne back if there is any hope for a decent season. Nice work by Mallett against a feeble Irish team.
– How bad were they? I've been to most of the home games since 1989 and I can't remember a worse opponent. Seriously. This team was much worse than the 2003 Irish that was beaten down by the same score.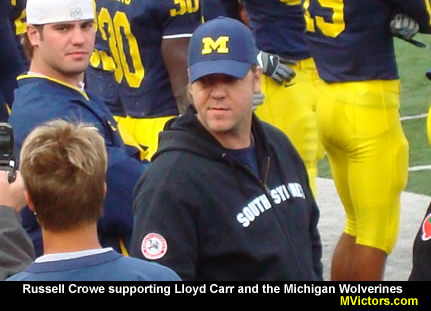 – Russell Crowe made it to the Big House to help out his new buddy Lloyd Carr. Not hip to the whole Carr/Crowe phenomenon? Click here for some context.
– I love the Notre Dame rivalry and the fans, but to all the jackasses wearing the Appalachian State gear: 38-0, how does that taste?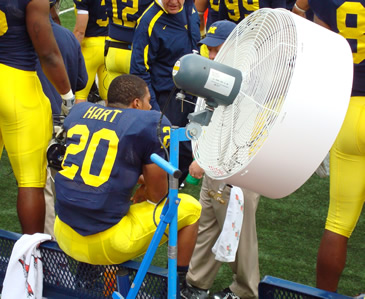 – Say what you want about Mike Hart and his statements before the game, but he completely rolled over those guys today. He delivered and overwhelmed those jokers.
– As for Coach Weis, word on the street is that he's holding an open try-out for the team on Monday. Wow – more to come on that.