[Ed. Folks, busy wrapping up my epic salute to Captain Conley and the 1964 squad for HTTV 2014. If you love f-bombs in history pieces that don't even include Ron Kramer stories, get your copies here now via the mgo-Kickerstarter campaign! I'll be back to regular business soon, including a few outtakes from the '64 stuff. In the meantime, just because, how about another epic a guest post from Dr. Sap???]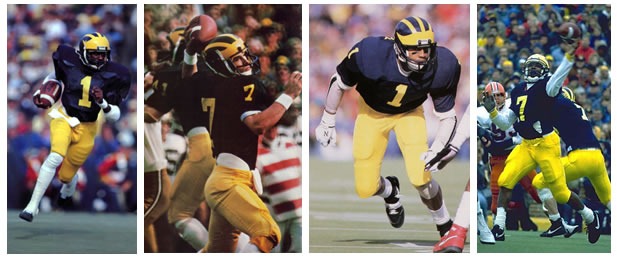 A guest post by Steve "Dr. Sap" Sapardanis
Two of the most iconic numbers in Detroit Red Wings hockey history were determined by bunk bed assignments on the team train in the 1940s. Ted Lindsay & Gordie Howe were awarded the #7 and #9 jerseys respectively not because someone in the organization thought they'd be great, but because bunk beds #7 and #9 became available for Lindsay & Howe when they were just beginning their Hall of Fame NHL careers. Back then, whatever bunk bed you slept in on the train was the number you would wear on the ice.
Legend has it that Old Number 98 was given his iconic number after a little dispute with his high school coach. Years ago Mark Harmon told Sports Illustrated his understanding of what happened:
As a freshman he was once chewing gum while the coach was talking and the coach got upset. He told him to get off the field but my dad said no. So they lined him up against the varsity and they kicked off to him and he ran three consecutive kickoffs for touchdowns. The coach told him to go to the office and pick out a uniform. So he did and he was the first one there. He picked the newest jersey, newest pair of pads, newest everything. He felt good and as he came back down from the office, the rest of the team was coming up. He went down to the field and the coach told him he had the starting halfback's uniform on. The coach said, "Go take it off and get something else." So he went back there and everything was gone except a moth-eaten torn-up jersey in the corner. Number 98. He loved that number and it came up continually in his life. It was the name of his sports-production company.
For Michigan football, two of the more recent iconic numbers have similarly interesting stories on how and why the respective players were given their iconic numbers and who subsequently has and hasn't worn them since. The numbers 1 and 7 have ultimately defined two positions for Michigan Football after their respective legends first donned those now iconic numerals.
When I mention #1 and #7 at Michigan don't you automatically think of wide receiver and quarterback? Interestingly enough, Anthony Carter and Rick Leach were the first players to wear the #1 and #7 jerseys at their respective positions. Before AC, Gregg Willner, a placekicker (1975-78), and David Whiteford, a defensive back (1973-1975) wore #1. Before Leach wore #7, Mark Jacoby wore it from 1972-1974 as a defensive end and wolfman.
I asked legendary equipment manager Jon Falk why Leach, who wore #13 as a Flint Southwestern Colt, was given #7 at Michigan in 1975, he explained to me how the number assignment process worked. During the summers, Falk & Bo would sit down and review the list of available numbers based on which players were returning each year. That list would then be matched up to the incoming freshman class and numbers were assigned to each new player based on position.
For Leach, #13 was already taken by backup junior QB John Ceddia. Falk and Bo saw that #7 was open, so they assigned the player who would eventually become the first freshman to start at QB in Michigan Football history, lucky #7. Anthony Carter's story was a little more interesting.
After hearing the reports about how dynamic Carter was in high school and once Bo and Bill McCartney saw Carter play in Florida, Schembechler gave Falk this bold prediction: "This kid is going to be the next Johnny Rodgers of College Football! He is going to return some kicks for touchdowns! We're gonna give him #1!"
Since AC last wore #1 in the 1983 Rose Bowl, there have been a few others to don the ultimate binary jersey: Greg McMurtry, Derrick Alexander, Tyrone Butterfield , David Terrell and Braylon Edwards – all wide receivers of course.
After Leach last wore #7 in the 1979 Rose Bowl, several other players at different positions have worn the lucky number. QB's Dave Hall, Demetrius Brown, Drew Henson, Spencer Brinton, Chad Henne, Devin Gardner (for a couple of years) and now Shane Morris. Kicker Rick Sutkiewicz, DB Shonte Peoples and RB Chris Floyd were a few other non-QB's to wear #7.
So I am not the only one who likes the fact that Shane Morris, a lefty QB, is wearing #7 – it just looks right.
But since Edwards left UM, no one has worn the coveted #1 jersey. Braylon has funded an endowment scholarship for the right to wear the #1 jersey, but no one has worn it since Edwards did in his last game – the 2005 Rose Bowl.
All this now leads to a couple questions:
Should the #1 jersey be put back into circulation?
Should #1 and #7 be worn by only WR's and QB's exclusively?
While Leach had a stellar career at U-M (3 Big Ten Championships, three-time 1st Team All-Big Ten QB, All-American QB in 1978 and the re-writing of the UM Passing Record Book), Carter's dossier was a notch above: (2 Big Ten Championships, three-time 1st Team All-Big Ten WR, three-time All-American WR and the re-writing of the UM Receiving & Kick Return Record Books).
One last question: The argument could be made that Carter was the best to have ever played his position at Michigan. That being said, if he wore #13, would we think #13 was the best number ever for a Michigan wide receiver?
Follow MVictors on Twitter