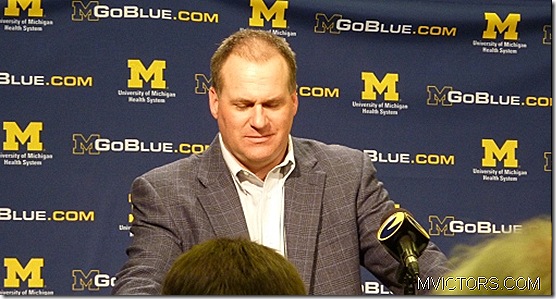 After the 2009 Purdue game – this was the best shot I got
At today's presser Rich Rod was asked about the postgame incident with Purdue Coach Danny Hope last year.   RR dismissed it and served up his go to Lion King line, "It's in the past."
If you don't remember, when Rodriguez and Hope met to shake hands after the game, the Boiler coach brought LG Zach Reckman along with him to meet RR.  Why?  Reckman was suspended by the Big Ten for the Notre Dame game earlier that season.  This happened the week after the conference suspended Jonas Mouton and Rich Rod threatened to review film of other games to find questionable plays to submit for conference review.   Hope obviously believed that RR submitted something that got Reckman shelved for the Irish game, and wanted to stick it in his face.
Here's Rich Rod talking about it in the 2009 postgame presser, just after it happened:
Rich Rod on Danny Hope
Play Now
|
Play in Popup
|
Download
I'm guessing/hoping it'll come up again later this week.