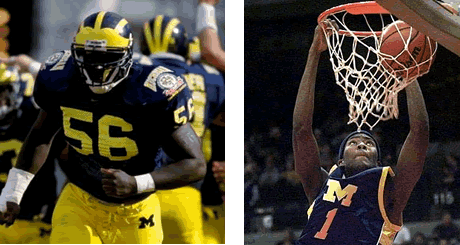 Sports Illustrated ran a factoid this week [Defeat Don't Fail Me Now – Sports' Biggest Losers] that listed the players with the worst winnings percentages in games which they've appeared. Heading up the NBA and NFL are Michigan grads:
Jamal Crawford [Michigan '00] leads this painful category in the NBA with a .303 winning percentage over his career, nearly thirty points lower than his closest rival. He's played for the Bulls when they sucked, and now is on the freakshow that is Isiah Thomas's Knicks.
James Hall's [Michigan '99] really been on the losing end. He of course been with the NFL's worst in the Detroit Lions for several years and lately caught on with lowly St. Louis. He's walked off a loser in nearly 75% of the games he's played, "tops" in the NFL. Yikes.
Don't cry too much for these guys. The fact that they even qualified for this thing means they've been in professionals at the highest level for quite a while, and played in a bunch of games. At the time of the piece, Crawford had played in 461 NBA games; Hall in 99 NFL contests.