Via the mind of Steve "Dr. Sap" Sapardanis, here are the Round 1 results of the Bo Brackets.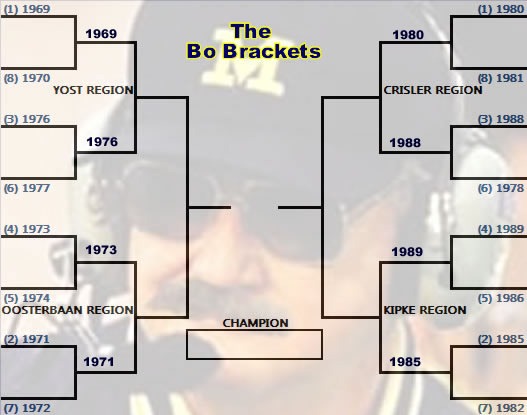 ROUND 1 GAMES – 1970s
1969 vs 1970
In a close game, 1969 pulled away late in the 2nd half with a pic-six by Barry Pierson and a Garvie Craw 1-yard TD run that came off a Tom Curtis interception.

Final Score: 21-7
1969 advances

1971 vs 1972
Dennis Franklin out dueled Tom Slade for most of this game, but Billy Taylor scored his 2nd TD of the contest on a 65-yard scamper to put the '71 squad up, 17-13. Franklin's last second Hail Mary pass was batted down by Thom Darden in the endzone to preserve the victory for the 1971 team as they move on.

Final Score: 17-13
1971 advances

1976 vs 1977
Rob Lytle ran for three TD's as the '76 squad looked to make this game a blowout, but Rick Leach's three TD passes in the 4th quarter tied the game at 21 with just under a minute to go. Jim Smith returned the ensuing kickoff 67 yards to set up Bobby Wood's game winning 33-yard field goal. Final score: 24-21.

Final Score: 24-21
1976 advances

1973 vs. 1974
A back and forth contest that saw the lead change 3 times, this game, not surprisingly, came down to a last second field goal. This time Mike Lantry drilled it right down the middle to give the 1973 team the 20-17 victory.

Final Score: 20-17
1973 advances

ROUND 1 GAMES – 1980s
1980 vs 1981
An 80-yard touchdown pass to Anthony Carter in the first quarter put the 1980 squad up early, but dual-threat QB Steve Smith led the 1981 Wolverines on three scoring drives to take the lead, 9-7 just before the half. After making some halftime adjustments McCartney's Monsters finally figured out how to stop Smith with two red-zone interceptions in the 4th quarter to win, 17-9.=

Final Score: 17-9
1980 advances


1988 vs 1978
In a battle of #7 southpaw signal callers, Demetrius Brown emerged victorious over Rick Leach, 28-21. John Kolesar caught two TD passes while Vada Murray intercepted Leach's pass in the endzone in the final minute of the game to preserve the victory for the '88 squad.

Final Score: 28-21
1988 advances
1989 vs 1986
Jim Harbaugh threw for 305 yards and three touchdowns, two of them to freshman wideout Greg McMurtry, but it wasn't enough as J.D. Carlson kicked 4 field goals to lift the 1989 squad to the victory.

Final Score: 26-24
1989 advances
1985 vs 1982
Jamie Morris ran for 275 yards and two touchdowns and Mark Messner had four sacks to lead the 1985 team to a 24-10 victory. Messner's last sack separated Steve Smith's shoulder, knocking him out of the game early in the 3rd quarter.

Final Score: 24-10
1985 advances
For more on the Bo Brackets, click here. Second round coming up later this week.
Follow MVictors on Twitter