[Ed. Steve "Dr. Sap" Sapardanis at it again, just in time for March Madness. ]
Ever wonder what Bo Schembechler-coached-Michigan-Football-team was the best? [Ed. Sap, of course they have!]. With March Madness all around us and brackets being filled out everywhere, I decided to draw up my own set of Bo Brackets – The Schembechler Sweet 16, if you will.
I used some basic criteria to determine who would go dancing, who would stay on the sidelines and who would get the highest ranking/seed of the Schembechler-coached teams from 1969-1989. Rose Bowl and Big Ten Championships certainly helped, and the absence of either of those pretty much meant you didn't get an invite. As a result, these teams are not included in the tourney for the following reasons:
1975 – Started Bo's Bowl streak but did not win a Big Ten Championship & had only 8 wins.
1979 – No conference championship & poor record doom this team.
1983 – A great defense, but no Big Ten Championship means no invite.
1984 – Obvious non-qualifier with 6-6 record.
1987 – Too many losses and too many interceptions spell disaster for this team.
Also note: The 1970 team was on the bubble for this tourney, but got the nod over the 1975 squad because of their better record, even though they both did not win a conference championship.
In trying to keep the teams and pairings era-specific, I created the 1970s and 1980s brackets with only two exceptions:
1969 – while not part of the '70s or '80s this team makes the tourney for obvious reasons.
1978 – placed in the 1980s bracket because they had more of a passing offense than any other 1970 Schembechler Team.
Bracket: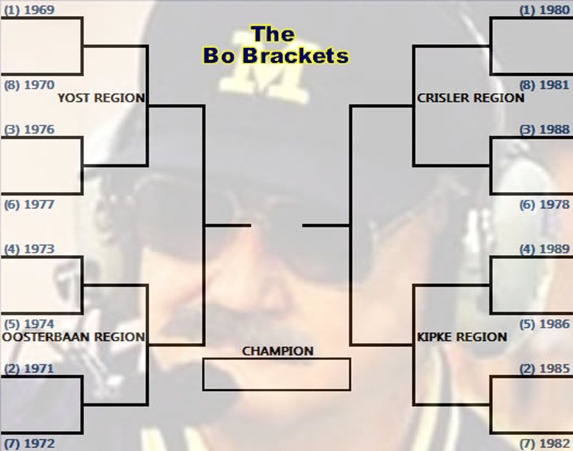 Breakdown of the top seeds:
1970s TOP SEEDS
#1 seed: 1969 – Monumental victory over OSU.
#2 seed: 1971 – Unbeaten & untied record & 1 point Rose Bowl loss.
#3 seed: 1976 – Most number of weeks (8) as nation's #1 ranked team under Bo.
#4 seed: 1973 – Bo's only undefeated team.
1980's TOP SEEDS
#1 seed: 1980 – Outright Big Ten & Rose Bowl Champs.
#2 seed: 1985 – Highest Final Ranking (#2) for a Schembechler team.
#3 seed: 1988 – Outright Big Ten & Rose Bowl Champs.
#4 seed: 1989 – Back to Back Outright Big Ten Champs.
[Posted now: The Round 1 (Schembechler 16) Game Results]
Follow MVictors on Twitter