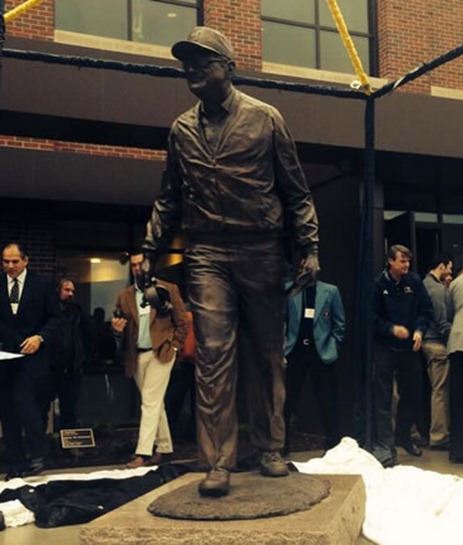 A few quick hitters on the Bo Schembechler statue. I spoke to the artist, Brett Grill, a few hours before the unveiling tonight – a few nuggets:
Grill was identified by a art consultant that the athletic dept hired, and selected after a review of 3-4 other candidates.
The only guidelines for the design were that Bo would be wearing an 'M' hat and no headset (on his head that is).
He created 20-30 models, with different ideas on the pose, etc. He eventually created a scale model of the design selected.
He interviewed family, friends and former players (including Jim Brandstatter & Fritz Seyferth) to understand as much about Bo as he could.
His parents are Michigan alums – before the project his knowledge of Bo centered around watching him on TV as a child. Before the project Bo was more of a caricature (the guy Grill recalled yelling on the sidelines).
Statue is 7 1/2 feet tall, made of bronze.
He used actual Bo era artifacts for the project – including the headset and the Rose Bowl watch.
One challenge was getting the contours of the jacket correct—he actually used a vintage jacket found on eBay to help get it right.
Grill is an associate professor at the University of Missouri.
Dave Brandon's blog has more here.
Follow MVictors on Twitter