[Ed. Guest post by writer/historian James D. Dickson – big thanks to James. Enjoy.]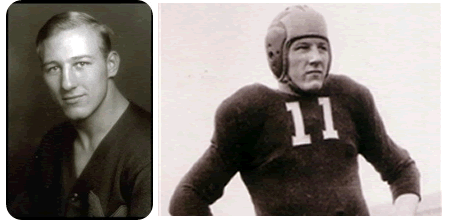 This weekend's Pro Football Hall of Fame festivities mean two things – the return of football, every weekend from now through early February, and it's time to start campaigning for the Hall's Class of 2011.
When the Pro Football Hall of Fame's Seniors Committee meets to discuss old-timers candidates for 2011, dominant Michigan and Philadelphia Eagles T Al "Ox" Wistert ('42) should be at the top of the list.
Readers of this blog will recognize Wistert as the second in a trio of Wistert brothers from Chicago who all played Tackle for the Wolverines in the 30s and 40s.  Though brothers Francis "Whitey" (1932-1933) and Alvin "Moose" (1947-1948) were the only two Wisterts to win national championships at Michigan, Al "Ox" did a lot of his damage in the National Football League. Still, the Wisterts' dominance and lineage were so powerful in Ann Arbor that the #11 worn by the Wistert brothers will never be worn by another Wolverine.
But Al "Ox" was the one who established himself in the pros as well, joining the Philadelphia Eagles in 1943.  World War II fans will remember the 1943 "Steagles" team, a wartime confab of the Philadelphia Eagles and Pittsburgh Steelers that satisfied no one.  Despite the pressures and strains of World War II, the Steagles experiment ended after only one year.
Wistert's Eagles would go on to win the 1948 and 1949 NFL championship games, both by shutouts, a feat never repeated in NFL history.
The case for Wistert's admission to the Hall boils down to the following:
1. It's just about the only honor in football Wistert hasn't attained.
All Pro. All Decade Team. NFL Champion. College Football Hall of Famer. He was bestowed that rarest of honors – having his jersey retired – twice, by two of football's most recognizable teams, The University of Michigan (11) and the Philadelphia Eagles (70). Wistert is one of only seven players on both teams to be so honored.
The Seniors Committee won't consider all of that evidence – only the stuff that happened in the NFL – but taken as a whole it's clear that Wistert is as deserving of any player of his era, which spanned from 1943 to 1951.
2. NFL lineman of the 1930s and 1940s are underrepresented.
From K.C. Joyner's Blindsided: Why the Left Tackle is Overrated and Other Contrarian Football Thoughts:
Wistert's case will start the run of great linemen of the 1930s and 1940s who deserve Hall of Fame induction. The linemen in the All-Decade team for both of those eras are sorely underrepresented in Canton.
In the 1920s, seven out of eight All-Decade OL are inducted (87.5%); in the 1930s, 3 of 10 (30%); in the 1940s, 4 out of 14, then (28.6%), in the 50s, 4 of six (66.66%); in the 60s, 41.1% (Joyner combined NFL and AFL teams); a perfect 10 of 10 in the 1970s, and 60 percent in the 80s.
As Joyner wrote, "putting Wistert in the Hall would honor his era, his position, and his team, all of which are in need of additional representation."
But one thing that could hurt Wistert is the success of those Eagles. As the Ox said in a 2005 interview with the Philadelphia Eagles' website:
"Just look at our back-to-back Championship teams in 1948-49," Wistert said. "Look at all the Eagles in the Hall of Fame off those two teams and all were very well-deserved. We have (head coach) Earl "Greasy" Neale, (LB) Chuck Bednarik, (RB) Van Buren, (TE) Pete Pihos, and (C) Alex Wociechowicz.

"…I definitely want to join all of them in Canton (the Hall of Fame)…It would be a tremendous honor."
3. He'd remember Ann Arbor.
Unlike Florida Gator Emmitt Smith, who omitted his time in Gainesville from his HOF acceptance speech, we're sure that Wistert would mention his time at Michigan fondly. Even though he'd be 90 by that point, Wistert's perspective reached back to the days of Fielding Yost and the early years of Fritz Crisler.
There's also something to be said for honoring Wistert while he's living. Given the case laid out above, chances are "Ox" Wistert will be given his Hall pass at some point – why not now, when he's here to tell the tale?
Read more about Wistert at Pro Football Reference.
——————————————————————————————————-
James David Dickson is a reporter for AnnArbor.com, and writes about University of Michigan sports history in his spare time.