[Ed. Buddy Moorehouse from Stunt3 passed this along for ND week and I thought it was great. Sure, if our band director stomped Tommy Rees on Saturday it would be appalling…but 35 years from now after Tommy Rees won a bunch of Super Bowls? I don't care who you are–that's funny.]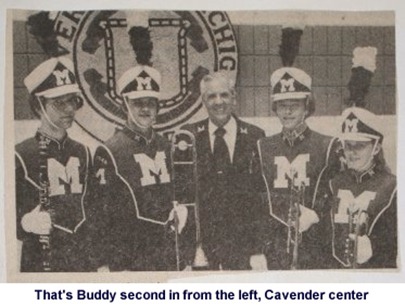 Guest post by Buddy Moorehouse
When the Michigan-Notre Dame rivalry resumed in 1978, I was a freshman trombone player in the Michigan Marching Band. Back in those days, the Wolverines would open the season with one Big Ten game before playing their three non-conference games in a row. So after whipping Illinois in the opener, 31-0, it was off to South Bend for the second game.
Bo wanted his band with him at Notre Dame, and what Bo wanted, Bo got. We all headed down on Friday and spent the night before the game in Sturgis; we were put up by various Sturgis High School band families. I remember that my Sturgis family considered it quite an honor to have two Michigan Marching Band trombone players sleeping in their basement.
The Michigan Marching Band also performed at that night's Sturgis vs. Battle Creek Pennfield game, and again, everyone made a huge deal out of the fact that they had the Michigan Marching Band in the house. They made us feel like this was the biggest thing ever to happen in Sturgis, and maybe they were right.
The facts of the 1978 Michigan-Notre Dame game are well-known. This was the Rick Leach-Joe Montana game, Bo vs. Dan Devine, Wolverines vs. Irish for the first time in 35 years. After falling behind at the half, 14-7, Ricky Leach put together three TD drives in the second half to take the 28-14 win. It was a great game.
I remember how great that win felt, but here's the moment I remember most from that day.
The Michigan band was seated on the field during the game, and the trombones were all placed in the front row, because they didn't want us hitting anyone in front of us with our slides. I was a lowly freshman, but for some reason, I had the honor of sitting right next to the band's director, George Cavender.
George Cavender was a legend. He had succeeded the equally legendary William Revelli as Michigan's band director, and he was a loud, bombastic, incredibly enthusiastic guy. The 1978 season was also his final season as the leader of the band, and I considered myself lucky that I was getting to play at least one year under his direction.
In any case, as the game got going, Cavender was just as loud and excited as any Michigan fan in the stands that day. He would cheer the good plays, boo the bad calls and wince at every dropped pass.
But here's what I remember most: Late in the second half, as Michigan was cementing its comeback, Joe Montana got tackled near our sideline and came tumbling into the band. He came to rest right at the feet of the legendary George Cavender.
Before Montana had a chance to get up, Cavender gave him a pretty good stomp to the chest and said, "Get the hell out of here!"
I was smiling pretty big at that moment, and so were all the other trombones who had just seen what I had seen. If Bo had been looking in our direction, I'm guessing he would have been smiling pretty big, too.
That was no doubt the first time a Michigan Marching Band director ever kicked a Notre Dame quarterback, and sadly, I'm guessing it will probably be the last. I'm just glad I was there to see it.
Related:
Follow MVictors on Twitter