Tip of the hat to MVictors undercover agent Kelley.   Check out the posted lyrics to the fight song of Yuma, Arizona's Cibola High School: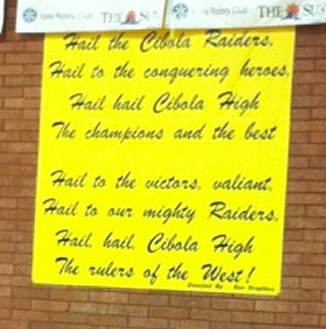 I ran this through the CSI Hard Evidence comparison widget and it came back as a 106% match to Louis Elbel's original, 'The Victors'.   Perhaps it's fair game since Elbel himself borrowed the melody from his pal George Rosenberg or more importantly, it was published before 1923 and is in the public domain. 
Either way, Dave Brandon is on the horn with the marketing department and his jet is warming up as I type.   The Cibola High gym will be a pile of rubble before the sun goes down.