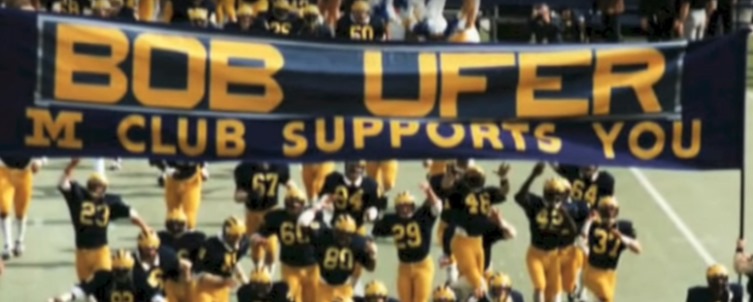 Via Dr. Sap's new video
I was a teenager when I heard the news and I sobbed like a baby.  I just couldn't believe it, but more importantly, I didn't WANT to believe it.
Bob Ufer passed away 34 years ago today, and back then the significance of his passing was recognized and felt immediately by me and I'm sure, many other Michigan Football fans.
Michigan Football would never be the same I thought back then – and I was right.  I knew I'd never hear, "Ten. Five. Four. Three. Two. One – TOUCHDOWN Anthony Carter!"  To me, that was the end of the innocence for me and Michigan Football.
Ufe kept everything real, passionate and of course fun to listen to.   Oh sure, there would be other people who would become the "Voice of Michigan Football," but there was only one "Voice of Meeechegan Football."
And just a I thought, the radio broadcasts were never the same.  Other legendary voices called the games, but the kid in me still yearned for the days when I'd hear Ufer recite "The Bo Schembechler Scoreboard" before each game with the Old General himself.
Ufer gave the Michigan players nicknames.  Rick Leach was the Guts and Glue of the Maize and Blue. John Wangler was Johnny Wingin' Wangler.  Anthony Carter was the Human Torpedo.
I get it – time moves one. Things change. It's time to grow up. I have.  I'm a husband and father now but I still miss listening to the guy that hooked me on Meeechegan Football.
So if you haven't already, check out some classic Bob Ufer calls on my Dr. Sap YouTube Channel, or check out the latest videos I just uploaded.
Go Blue, and God Bless your cotton-pickin' Maize and Blue Meeechegan Heart!
Need to show you're down with old Ufe?   Get stuff at Moe's:
More:
Ufer.org
1981 Michigan-Iowa Bob Ufer M Club Banner (Dr. Sap video)
1981 Michigan-Iowa Bob Ufer Pressbox (Dr. Sap video)