There's a difference this year in the Wolverines and I think it has a lot to do with having a guy at the helm focusing on this (from pregame Saturday):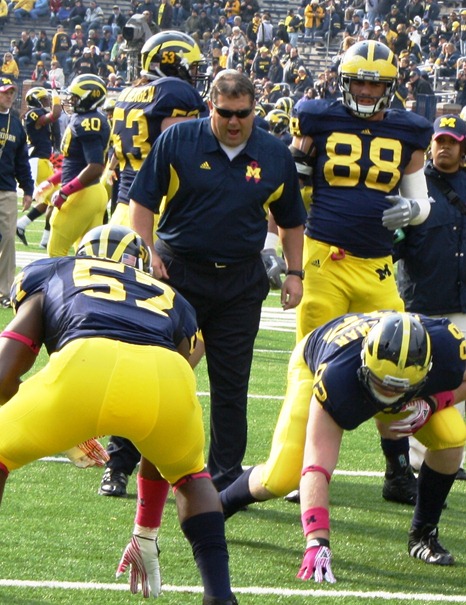 And this, from August: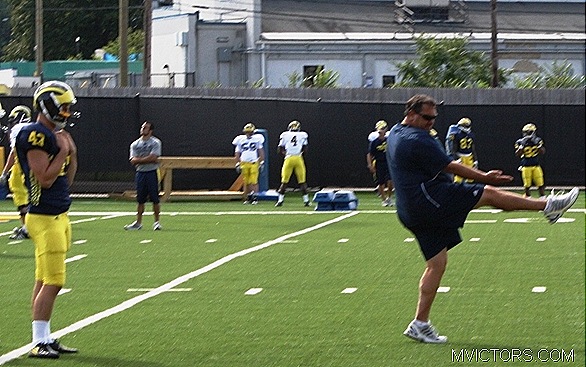 Still, do you see a championship-caliber team out there?  I don't.  But I like what I'm seeing.  Even in the State game you could tell we were tackling better and each week guys seem to know what they're supposed to do and do it.
There's enough talk of Rich Rod given the release of Three and Out last week, so I'll save the comparisons but needless to say I like where things are heading.  This team won't be in Indy this year but they'll be in that game soon enough.
Speaking of who's ending up in Indy–I love talking about the tie-breakers and I broke it down in detail here.  This divisional alignment presents the opportunity in certain circumstances for wild redemption.  Consider that freaking Iowa controls their Rose Bowl destiny.
Between us, Michigan ain't winning out but here you go with some scenarios for the Legends division:
Nebraska remaining games: (Northwestern, at Penn State, at Michigan, Iowa)
Michigan State: (Minnesota, @ Iowa, Indiana, @ Northwestern)
Michigan: (@ Iowa, @ Illinois, Nebraska, Ohio State)

Nebraska controls their destiny – win out and Huskers go to Indy.  In this case they would at worst tie MSU for record and win tie-breaker on head-to-head.
Believe it or not, Iowa also controls their destiny.  Win out and they go.  No matter what happens they will win the by virtue of the first tie-breaker (they will have defeated the other team(s) they are tied with).
If Nebraska falls (say, to Penn State or Michigan), Michigan State takes the wheel if they win out.  They would have a better conference record than Nebraska and even if Michigan wins out, they would take the head-to-head tie-breaker.
Basically Michigan must win out to have a shot.  The issue is the loss to MSU-Michigan State must lose to someone for their second conference loss.  If State loses and Michigan wins out, the Wolverines go to Indy because they'll have dealt Nebraska their second conference loss.  Michigan can wease in by virtue of a three-way tie between two-loss Michigan, Nebraska and Michigan State, but it will require some in-division advantages (either overall division record – say, if State loses to Iowa and Michigan loses to Illinois but wins the rest AND Nebraska wins their games other than Michigan).
More from Purdue:
* Dr. Sap's Decals – Purdue
* Purdue Postgame Presser Transcript: Players
* Bob Wojnowski: In finding running game, Michigan re-joins Big Ten title race
* MNB Nation: Purdue Photos
Bonus shot from Saturday – Brady Hoke is Flash Dilithium: