ESPN blogger Adam Rittenberg's been running down some of the Big Ten's finest football gameday traditions, you might have read his breakdown of your Wolverines posted on Monday.   While I hope there's nothing new in Rittenberg's piece for any readers of this site, any pub for Michigan's greatest asset on ESPN is all right with me. 
From the guy who dedicated a seven post series (and more to come) to the Little Brown Jug in a season when we didn't play Minnesota, I need to call a couple fouls on Rittenberg's post.  Naturally.
First, call it a misdemeanor but the name of our fight song is of course 'The Victors', not 'Hail To the Victors'.  A common error no doubt, but if you are tasked with running down a list such as this methinks you should get that right.
But another item struck more of a nerve and it was the mention of a certain digit in the Big House official capacity.  A-Ritts wrote:
Seat for Fritz Crisler: For every home game, Michigan reserves one seat in the stadium for former head coach and athletics director Fritz Crisler. The tradition was started by legendary former coach Fielding Yost. All Michigan Stadium capacity figures have ended with 1, to honor Crisler. The seat's location is not revealed.
First off the following line is just wrong: "The tradition was started by legendary former coach Fielding Yost".   I'm not sure where Adam got that but perhaps it was from <gulp>, the Michigan Stadium Wikipedia page which states:
There is one "extra seat" in Michigan Stadium "reserved" by former head coach Fielding Yost for the then athletic director Fritz Crisler
"The then" Wikipedia page is wrong. 
Michigan actually introduced the '1' to the official attendance in 1956, over a decade after Yost died.  When Yost was alive Crisler was indeed the athletic director (starting in '41) but the suggestion that a legendary figure like Yost would, in his later years, go out of his way to honor the relatively new-to-campus Crisler just doesn't make sense.  It'd be like Michael Jordan suggesting the NBA retire #23 to honor LeBron James.  But this is moot anyhow because as mentioned Yost was gone a decade before the "1" came into existence.
For messing up this nugget of Michigan football history I hereby sentence Rittenberg to 1 month probation and ask that he memorize the lyrics to The Victors. 
I've been guilty of spreading bad info on traditions/history in the past and I ran into this all the time while researching the history of the Little Brown Jug.  I'm certain that much of LBJ lore was merely crafted by journalists (perhaps nudged by zealous coaches/managers) who spiced up the tale over the years and some of it has survived today.  (Guess what?  Yost never wrote/wired/called Minnesota demanding the jug be returned after the 1903 game.  Likewise there was no reply that Michigan would have to "win it back".   A day or so before the 1909 game Minnesota's AD summoned over Yost and they decided to play for the jug.  Boring?  Sorry, but that's what really happened.)
The link to the Wikipedia source to the mention of Yost's involvement in the history of the "1" is gone, but now of course they've got a source from ESPN.com backing up that claim.   Ugh.
Anyway, as far as the seat actually honoring Crisler, this is the accepted history today I don't knock Rittenberg for stating that.  But I've never been fully convinced that the "1" is absolutely, positively intended to honor him.  There's no doubt Crisler was behind or at least heavily involved in the "1" concept.  He did serve as athletic director for the renovation project that yielded the distinguished digit (again, in the mid-1950s).   According to a trusted source, the U-M Bentley Library:
According to a newspaper article quoting an Athletic Department staff member, "Fritz wanted to end up with a figure of 100,001, but he came up with a thousand seats too many. But he still got that 001 at the end." This began a tradition of ending all Michigan Stadium capacity numbers with the digit 1. The final seat was later said to be reserved in honor of Fritz Crisler.
So the Bentley kind of loosely states that the "1" was to honor Crisler.  The official site (mgoblue.com) states it as fact:
10. Finally, one fact that remains unknown about Michigan Stadium is the location of Fritz Crisler's seat – the one "extra" seat that is indicated at the end of the stadium's capacity. The tradition began in 1956 in honor of the long-time athletic director.
But check out this wonderful 1964 Sports Illustrated piece on Crisler that delved into the topic of the sacred seat.  Keep in mind this was almost a decade after the tradition started:
One question that all Crisler's guests ask him is, "How did you arrive at a seating capacity of 101,001? Was it pure coincidence? Was there a reason for the additional seat?"

Crisler smiles at the question. "Let us put it this way. It makes a great conversation piece at cocktail parties."

That extra seat had no significance of any kind? It was not any special seat in any special spot?

"It has its spot," said Crisler. "And I am the only man who knows where that spot is."

And he would not tell?

Fritz Crisler leaned back against a goal post and gazed around the stadium and down the snow-covered field. He smiled and shook his head.  It was his secret. But anyone is entitled to guess, and one guess might be that somewhere in that vast stadium there is this one seat, and perhaps it is never sold. Perhaps it is reserved, now and forever, for someone who taught Fritz Crisler a way of coaching football and a way of life. For the Old Man, Amos Alonzo Stagg.
I don't know.  If I had to guess, I suppose Crisler reserved a seat for himself but I've just never seen this confirmed by he or anyone else.  Perhaps Crisler admitted this in his later years and I missed it.   But doesn't it make you wonder, would a seated AD actually do something to honor himself?  Sure, they named Yost Field House during Yost's coaching tenure but the groundswell for that seemed to be from folks other than Yost himself. 
On these pages I once tossed out there that Crisler might have actually reserved two seats—> 101,000 and 101,000 for he and his mentor, Amos Alonzo Stagg.  Where?  How about these two bizarre seats that were nestled up against the press box (Section 22, Row 85, Seats 7&8)?, here occupied by a lil' cheerleader: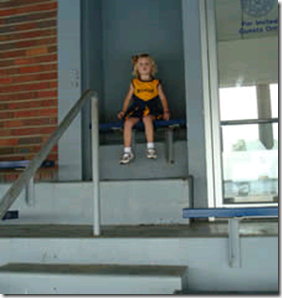 Did it Die?
So while we know this tradition of the "1" was hatched from a renovation nearly thirty years after the Big House was dedicated in 1927, you have to wonder if it'll now die with the latest renovation.  I'm sure those two seats you see above were ripped out as part of the recent press box demolition.
The revised capacity figures haven't been specific as expressed here from the FAQ on the official U-M stadium renovation website:
Q21: What will the new capacity be once the project is completed?
The current seating capacity of the stadium is 107,501. The expansion will add 80+ suites and 3,000+ club seats. Though widening seats and aisles and adding seating for mobility impaired fans will result in the loss of some seats, the stadium capacity is projected to exceed 108,000 when the project is completed.
I reached out to Associate ADs Joe Parker and Bruce Madej to comment on whether this tradition will continue.  Hope to have more on this soon.