Based on his recent blog post I think Dave Brandon is waiting for this thing to finish before making a decision so—welcome to the finals of 2011 Death March Madness.  Thousands upon tens of votes cast have brought this final pair of competitors together.  As promised, anyone who has participated is probably worse off for it.   

Perhaps I should have just put Jon Gruden straight into the final.  You love him.  He won this same event in 2007 and despite being years from the coaching sidelines he's now back into the finals after nipping TCU's Gary Patterson in the Final Four.    His opponent is Les Miles who had an easier time with Oklahoma's Bob Stoops.
This isn't the first time these two have faced off in Death March.  Yes, in 2007 the pair met in the Yost division regional finals and Chucky took Les down to China Town with 53% of the vote. 
Who's Michigan next coach?  Dave Brandon is waiting (hint: he doesn't like the idea of two coaches so pick one):
Loading ...
Here's the full bracket: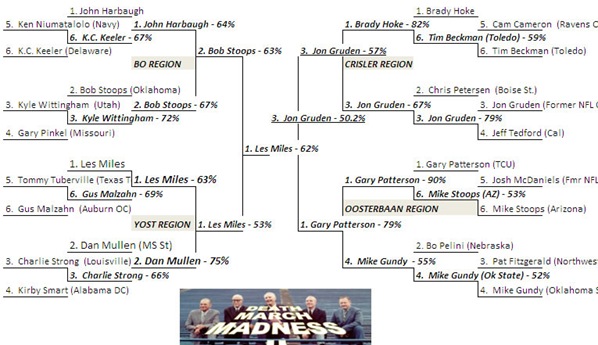 More on Death March Madness II here.
Thanks again to Christian Sack, (icefins26 on mgoblog, or guy who rocks the Zack Morris/AC Slater avatar) who drew up the seedings and prepared a quick summary of each candidate.