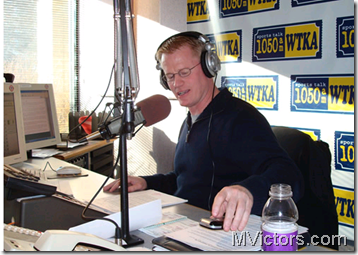 Local media behemoth John U. Bacon hosted this afternoon's Big Show on WTKA, and the topic the entire show was the future of local journalism.  A variety a guests joined in on the discussion including co-host Richard Deistch of Sports Illustrated, former AA News columnist Jim Carty, Michigan associate AD Bruce Madej, Brian Cook of mgoblog and batting clean-up: me.
Tony Dearing, the man spearheading the AnnArbor.com roll-out, unfortunately didn't make it into to the discussion but Bacon advised he has an open invitation.
As an aside, kindly Bacs let me plug the 2009 JDRF Golf Classic which will be held June 22, and you can find details here.  Please let me know if you have questions or are interested in participating, sponsoring or offering a donation.
I joined in the 5 o'clock hour; here's the audio for those segments:
Segment 1
Play Now
|
Play in Popup
|
Download
Segment 2
Play Now
|
Play in Popup
|
Download
Wrapping up the Show
Play Now
|
Play in Popup
|
Download
Synopsis:
Segment 1: We talk about the value of newspapers and offer some advice for AnnArbor.com.
Segment 2:  Some discussion of how Brian uses and maintains an online community, blogging ethics, building a following, and we take a few calls.
Segment 3: A short wrap-up, with a thanks to Deistch for his participation on the show and my advice and outlook for AnnArbor.com, with a plea to Dearing to visit the show.
You can always check out the WTKA podcasts here.  Prior to me joining in studio, the other distinguished guests chimed in on these and other topics, check them out here:
Related: MVictors hits the Big Show (WTKA audio) – March 3, 2009 appearance