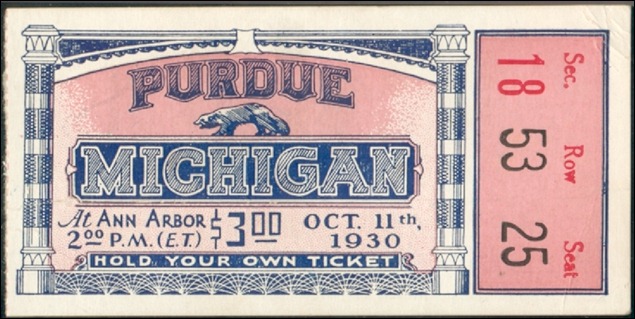 For tomorrow's evening affair, a trip back to 1930, a season that started with a double-header(!) in front of only 13,000 fans but was notable nonetheless.  In that year coach Harry Kipke got things working and started a string of 4 consecutive conference crowns.   October 11, 1930 was week 3 when his Wolverines faced defending league champ Purdue.  This game also marked the debut start of would-be superstar quarterback Harry Newman.  Check it out:
Harry Newman and Harry Kipke turn it up! This week in michigan football history
Play Now
|
Play in Popup
|
Download
You can catch all of the This Week in Michigan Football History clips here…And don't forget to catch it live Saturday on the KeyBank Countdown to kick-off on WTKA 1050AM or inside the Bud Light Victors Lounge starting at 3pm.
Follow MVictors on Twitter 
Harry Kipke is an interesting figure in Michigan Football Lore. He started with his days as an All-American for Fielding Yost in the early 1920s. To this day Kipke remains one of the greatest punters in to ever lace them up in Ann Arbor, and he shined when punting played a much more strategic role in the game.
After his play days the Lansing native took up coaching, including a brief stint leading Michigan Agricultural College in 1928…but just one year into his tenure in East Lansing Yost lured him back to coach the Wolverines.
He got situated with a subpar season in 1929, but entering 1930 Kipke had built a solid foundation that was ready to bring titles and glory to Ann Arbor.
In those days football was understandably a lower priority for most folks, as in 1930 the country was in the grips of the Great Depression.
For the athletic department, getting fans through the Big House gates was a struggle.
But they tried—and they mixed in a few gimmicks. While No Coke Zero was exchanged, but they did schedule a double header to start the 1930 season.
That's right – Michigan played both Denison and Michigan Normal (aka Eastern Michigan) in back-to-back games on the same afternoon to open the schedule. The good news is that Kipke earned two wins on the same day with a pair of shutouts. The bad news is that fewer than 13,000 fans bothered to show for the afternoon double dip. And yes, that includes the scores of tickets the Athletic Department handed out for free to area high schools.
Fast forward a couple weeks later to October 11, 1930 as Kipke led his men against defending league champion Purdue in front around 40 thousand fans. Notably this was the first career start for talented quarterback Harry Newman, who had to rally the Wolverines after Purdue tallied two scores to go up 13-0 in the first quarter. But rally Harry did – to the tune of a two touchdowns, and just as importantly, 2 extra points by Newman himself–to propel Meechigan to a 14-13 win.
Kipke found his quarterback, and the Wolverines rolled through the remaining schedule, finished 1930 unbeaten and earned a conference title. More importantly, that season sparked a stretch that put the Wolverines on top of the college football world with four straight league crowns from 1930 to 1933, including a pair of national championships.