Do something worthwhile on a weekend this fall: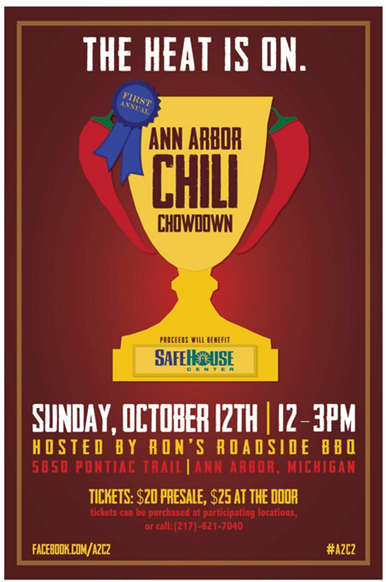 The Ann Arbor Chili Chowdown (A2C2), hosted by Ron's Roadside BBQ, is scheduled for Sunday, Oct 12th from 12-3. Currently there are 20 confirmed restaurants including Grizzly Peak, Blue Tractor, Zingerman's, Wolverine Brewing Co, and Black Pearl. The Ann Arbor community is invited to come out and cast their vote for Ann Arbor's chili king. Former Michigan running back and NFL record holder Jamie Morris is going to emcee the event and live entertainment booked for the afternoon as well.
Safehouse Center of Ann Arbor is the beneficiary of this first annual A2C2. If you're not familiar with their work, they provide support for women and children impacted by domestic violence or sexual assault in Washtenaw County, including counseling, legal advocacy, and most importantly shelter. This event is particularly fitting in light of the recent Ray Rice NFL scandal and considering October is national Domestic Violence Awareness Month.
Tickets are available for $20 presale or $25 at the door, and 100% of the proceeds go to the SafeHouse Center. Children 5 and under are free, and ages 6-12 are $7.
For any more information, everyone can check out our Facebook event page at https://www.facebook.com/events/791739284211770/
They can also email annarborchilichowdown@gmail.com or call (217) 621-7040.