[Ed. This ran in GoBlueWolverine Mag a couple months back.  I thought I'd republish it here given that the American Pickers are coming to town.]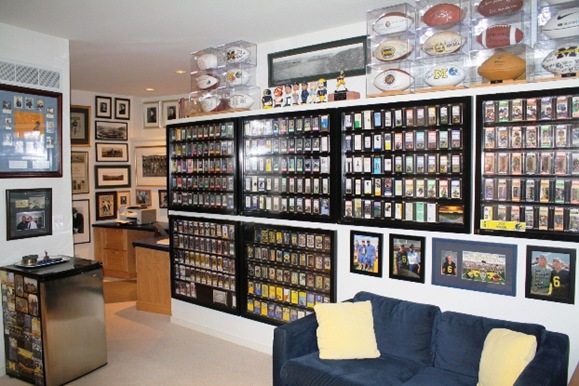 There are a few places in Ann Arbor where you can view some of the finest Michigan football memorabilia in the land. If you can get inside, the museum at Schembechler Hall features helmets, jerseys and other relics from the early days of the program. Up on North Campus the wonderful archives at the U-M Bentley Historical Library contain an extensive array of documents, photos and news clippings covering the history of Michigan athletics.
Neither collection is quite like what lifelong Ann Arbor resident Jack Briegel has at his home. While most Michigan fans have some sort of shrine of collectibles dedicated to their beloved football program, it's doubtful anyone has approached this level. In fact when a university-sponsored contest was held years back to find the 'Ultimate Wolverine Den', they probably had an easy time naming Briegel the winner.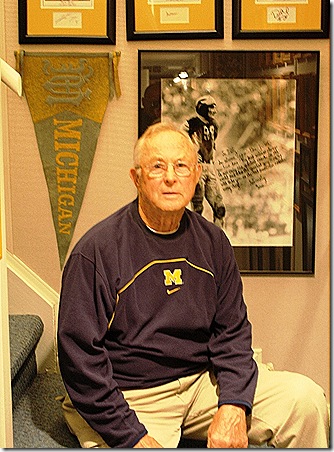 I visited Briegel at his home this fall to get a tour and chat with him about his hobby. He took me straight downstairs and into a corridor flanked with framed photos signed by players and coaches—primarily but not limited to Wolverines. In a section dedicated to the winningest coaches of all time, Briegel even includes autographed shots of <gulp> rival coaches Lou Holtz and Woody Hayes. "Only Lou would sign over his nose," Briegel joked, referring to the curious placement of Holtz's signature on his photo.
Once you make it through the hall of photos you enter a room containing the cornerstone of Briegel's collection—the ticket stubs. He's gathered hundreds of the ducats from 1896 to the present day and he has them neatly assigned inside sixteen beautifully prepared glass cases aligned in chronological order. It's a museum-quality arrangement and for fans of the history of this program, it's breathtaking.
The ticket collection is extensive but not quite complete, at least to someone as passionate about his hobby as Briegel. While it'd be impossible to find every ticket in Michigan football history (certainly many from the 1800s and early 1900s don't even exist), he is close to gathering up every stub, home or away since Michigan Stadium was opened in 1927. All told he's missing just a handful stubs from this span believe it or not, just one from the hundreds of home games that have been played at the Big House.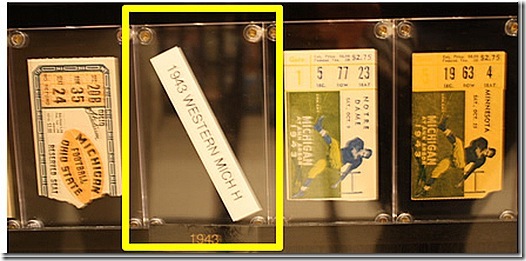 That elusive piece to the Michigan Stadium puzzle? The ducat to the 1943 Western Michigan contest. The tickets for that September 25, 1943 game actually list Michigan State as the opponent. But the Spartans did not field a team that season as it was common for teams to shut down their football squads that year due to obligations to the war effort.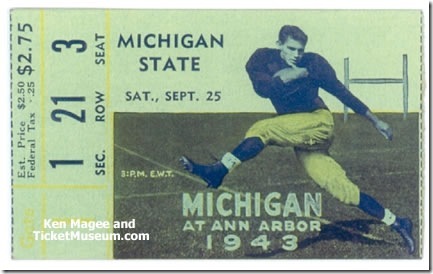 Folks seemed to have better things to do that fall day as just over 14,000 bothered to show up, and apparently it wasn't memorable enough for many fans to bother to hang onto their stubs.
Briegel, now 75, has lived in Ann Arbor his entire life and began collecting memorabilia at a young age. He grew up near the stadium and that's really when he started gathering Wolverine relics.  Ironically, Briegel used to enter games as a youngster without a ticket!
"We used to sneak in. A lot of times ticket takers would just wave us in," he recalled with a smile. Back in those days the Big House was frequently a mostly empty house.
I asked if he had a favorite amongst the hundreds displayed on his walls. "This is real hen's tooth," he told me, motioning to the difficult-to-find 1927 Ohio Wesleyan ticket, the first game played at Michigan Stadium. He's also fond of the tickets to the doubleheader games played during the Great Depression. Believe it or not, from 1929-1931 the athletic department actually scheduled the Wolverines to play a pair of games on the day of the season opener.
Representatives of the current athletic department are aware of his collection, especially those at the great U-M Bentley Library. This summer the library contacted Briegel for permission to feature a few of his items in the program for the stadium rededication game against Connecticut. "I was truly honored," Briegel told me of the request, as he was thrilled for the opportunity to reciprocate some of the help that he's received from folks like Bentley curators Greg Kinney and Brian Williams.
The Bentley helped Briegel was after he came into possession of probably the most unique and valuable piece in his collection. On display inside a glass coffee table is a menu from a special send-off dinner for Fielding Yost's remarkable 1901 team, as they were about to depart for the first Rose Bowl. The menu was signed by everyone at the party including Point-A-Minute legends Willie Heston, Neil Snow, "Boss" Weeks along with Yost, the coaching staff and members of the athletic department. It's remarkable.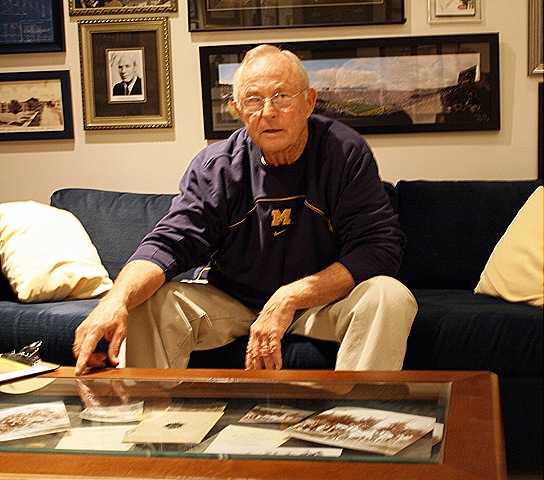 To identify the authors of the signatures, Brieg el sought the help of Kinney along with fellow collector Dennis Dail. Eventually they nailed all but one of the autographs. Speaking of that menu, Yost's men were treated like royalty that night. They dined on several courses in a feast that included little neck clams, oyster patties, filet of beer, roast turkey, sweet potatoes, fresh peas, strawberry ice cream and "assorted cake". With full bellies, Yost, Heston and crew headed off to Pasadena where they crushed Stanford 49-0, rounding out a truly perfect season where they outscored opponents 550-0.
Briegel is retired these days, having worked 23 years for book manufacturer Braun-Bromfield before co–founding Saline-based printing company McNaughton and Gunn. Since he's around the house a bit more these days, naturally I asked Briegel how his wife Jeannette feels about the collection. "She tolerates it," he told me with a laugh. But he added that there's a strict rule in place–the memorabilia doesn't make it past the basement door to the main level. When the couple added onto their house in the 1990s they also built out the basement, allowing Briegel more room to house his award-winning shrine. It should be noted that one wall downstairs is reserved for "memorabilia" of his grandchildren and family, including several medals earned by his granddaughter, a well-decorated gymnast.
For the past several years he's used his own season tickets to extend his collection and he prefers to have the full ticket intact for his display. Before the dawn of barcode scanners at Michigan Stadium (a couple years ago) Briegel used to negotiate with attendants to allow his tickets pass through the gates in one piece. If he got resistance from the ticket taker, he'd summon a manager and explain how serious he was about this hobby. "I was always able to talk my way in," Briegel told me. While he doesn't have this issue at the Big House anymore, he still occasionally has to do the dance when passing through the gates for away games.
As far as plan for collections down the road, Briegel is unsure. Neither his son Jeffrey nor daughter Judy has expressed a deep desire to continue the collection. "I wouldn't mind a lot of it going to Bentley Library," he told me. He's taken steps to ensure that wherever the items end up, they'll all be in good shape. Beyond protecting each item in glass or a frame, he's installed special lighting along with smoke and motion detectors to monitor his precious den.
In the meantime, Briegel got work to do to fill those few empty slots in his display cases and he says regularly monitors the latest eBay auctions. I'm guessing it won't be long until he finds that elusive 1943 ticket and I'd love to be there when he slides it into that empty slot on his wall.