I was recently contacted by the Detroit News for a freelance assignment to come up with a list of the Top 25 Michigan football players of all-time.   I've kinda had lists like this in my head over the years but never actually put it down on paper.  
One guy who is a lock is Mr. Adolph "Germany" Schulz who dominated the line of scrimmage on Yost's teams between 1904 and 1908.   If he wasn't a lock on the first pass, this note in his College Hall of Fame profile sealed it:
Grantland Rice wrote in 1928: "Schulz stands as the fastest giant who ever played football, a human bulwark fast enough to tackle at either end, as he brought down his man after the manner of a hawk snaring a quail."
Clearly the clever guy who dubbed young Adolph Schulz "Germany" never conferred with the original G Rice.
Speaking of Schulz, I love this photo that I share courtesy of the great U-M Bentley Historical Library.  Here's the still imposing Germany inspecting the 1949 Michigan Stadium expansion, looking somewhat skeptical (click to enlarge):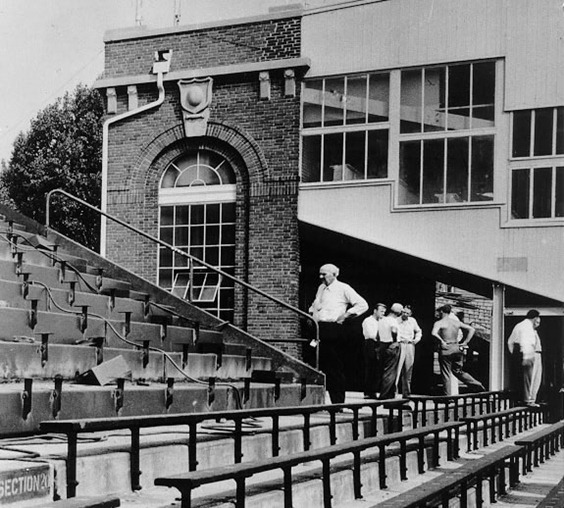 I'm not sure when the News plans to publish the Top 25 list but I'll keep you posted.  I expect to get the usual beatings that are thrust upon dudes who make sports lists.  
Hawk-on-quail-like beatings.
Follow MVictors on Twitter