With Saturday marking the one hundredth game between Michigan and Michigan State, I took a look back to find the first meeting of the two schools. It dates back to the late 19th century when on October 12, 1898, the Wolverines defeated the crew from Michigan Agricultural College 39-0 in Ann Arbor.
The season of 1898 was a special one for other reasons. The Gustave Ferbert coached squad made it through the season undefeated heading into the final game- a showdown with powerhouse University of Chicago held on Thanksgiving Day. The defining moment of the game was when Wolverine Charles Widman broke free on a 65-yard run that allowed the M men to take down Chicago 12-11 and claim the title Champions of the West.

One of the 600+ fans that attended game was music student Louis Elbel. As recorded in the October 1979 version of the Michigan Alumnus and posted on the alumni website, here are Elbel's own words on how the Chicago win and the season of 1898 inspired the greatest fight song in the world:
"We were crazed with joy," Elbel. "We paraded in the dark. We yelled and followed our U-M Band, singing to the tune of "Hot Time in the Old Town." It struck me quite suddenly that such an epic should be dignified by something more elevating, for this was not ordinary victory.

"My spirits were so uplifted that I was clear off the earth, and that is when "The Victors" was inspired. I put in a lot of "hails" and I knew the fellows would get them in with the proper emphasis. Through them, the title suggested itself, and I dedicated it to the Michigan team of 1898."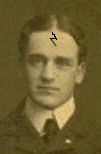 The other significance of 1898? The team's manager was a young lad by the name of Harry Potter (pictured left from the Bentley Museum), who apparently hung up the quidditch broom in favor of a real man's sport. It also looks like HP conjured up a wicked spell to make his hair part down the middle.
More Posts on M history: