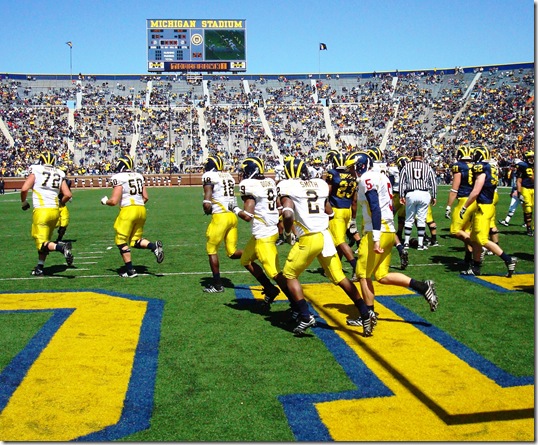 Forcier and Vincent Smith celebrate after a score
A beautiful day out there today as the masses came out to check out the Wolverines, back in Michigan stadium this year after holding a closed scrimmage in Saline in 2008.  A few of the posts I put up during the day:
Blue 32, Maize 24: M Alumni Game (Photos)
Spring Game: Locker Room Tour (Photos)
While there was no stand-out player at last year's game, there's no question that today it was freshman Tate Forcier.   He showed some of the things you heard about in practice: sharp passes, moving well in the pocket, throwing well on the run, and showed that he can carry that ball.   I don't have all stats but I believe he ran for at least 2 touchdowns, including a beautiful jump and stretch to get the ball over the line in an overtime simulation.  Vincent Smith mixed in some nice runs as well.
The defense gained a little momentum in the middle of the full-field scrimmage, but still showed some of the poor tackling that we've seen over the last few years.  Will Campbell noted that a focus for the defense will be wrapping players up via the patented 'Wolverine Wrap".
A few more photos from the day:
| | |
| --- | --- |
| Woodley represents | Savoy touchdown |
| Larry Foote | Big Will Campbell |
| | |
From mgoblue.com:
Archived Video: Spring Game | Alumni Game
Photo Gallery
Relive the Spring Game's Best Moments – Sights and sounds by Richard Retyi
Around the M blogosphere:
– The Neverending Line: a photo essay (Ace @ TheWolverine Blog)
– Spring Game Recap (Excellent – Michigan Sports Center, Sean got to hold the M banner)
– Your "Girl Friday": Notes from the Spring Game (Spawn of MZone)