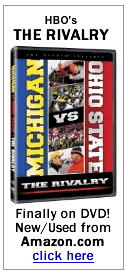 The brief letdown I felt on Sunday stemming from the losses this weekend has faded and I'm in full on geeked mode for the Big One. The Lloyd Carr retirement rumors have raised it up a notch and it's just been too long since the last home game – let's do this!
With the hype building for Saturday it was a great night to watch the premiere of HBO's first documentary dedicated to sports: The Rivalry. Initial review by those that at pre-screening event was that it was slanted toward the Buckeyes and didn't mention Lloyd Carr. I went in with an open mind:
– The content definitely slanted toward the Buckeye side of the house. I'd say the last half of the piece was 80% focused on Ohio State fans and Woody Hayes.
– Overall it was well done. While they didn't have any mention/picture/video of Lloyd Carr, they didn't exactly spend a lot of time on Tressel. But the Carr omission was a little weird. I mean, they showed footage of John Cooper and a lot of Earle Bruce, but and didn't mention Carr?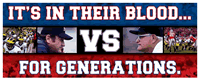 – The quotes from Bo were great. They talked about the gold pants that each OSU coaches and players gets if they beat Michigan (and later show up on eBay). One thing that never occurred to me is that Bo himself owns some of those pants due to his time coaching under Hayes in Columbus. As he looked behind him to make sure know one was listening Schembechler whispered, "I have several of those pants myself, I don't mention that around here."
– The footage from the 1950 'snow bowl' game in Columbus was outstanding. Definitely check it out. The teams punted 45 times.
– It turns out 'Muck Fichigan' has been with us quite a while. They showed some sort of parade following the 1968 game in Columbus that featured a wooden sign spray painted with those famous words. It showed up later in the 70s and right up to last year on hats, shirts and signs that were seen throughout the documentary.
– Speaking of F-words, that Bo Biafra from the Dead Schembechlers was awful. He added an 'F Michigan' except he actually said it. Way to go buddy – on film forever dropping f-bombs about Michigan.
– They showed a strip of film showing the real 'Those Who Stay Will be Champions" sign, which I've never actually seen. It's unspectacular but still pretty cool. Just a plain old sign. Here's what they showed: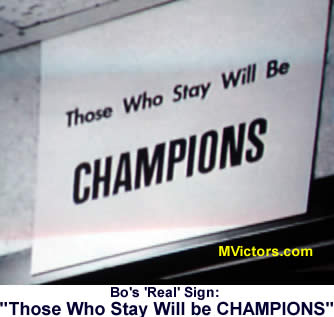 – Just a general question: Is there anyone famous from Ohio State? They had interviews some comedian, that loser from the Dead Schembechlers, a writer from the Dispatch…then all coaches and players.
– I laughed a few times. They did point out that Michigan fans think of Buckeyes as author John Bacon explained, "slightly redneckish" and didn't do much to defend that characterization of the Ohio fans. As Bacon uttered that legendary description the HBO producers panned to a BuckNut walking by with a mullet and a Daniel Boone fur cap. Great stuff.
– The piece closed with a nice (but brief) tribute to Bo and Woody, and included some superb pictures inside Michigan stadium.
Overall, I'd have to say 'well done' but the criticism you've heard already is valid. They have killed two birds by including a segment on Lloyd Carr and the past 10 years or so. I look forward to the next installment from HBO – The Notre Dame vs. Michigan rivalry.