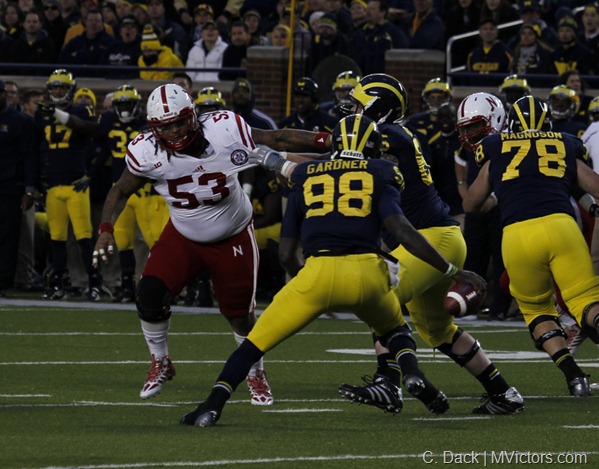 When the offense took the field with a chance to win the game late in the fourth quarter there was a stunning sound from the crowd: nothing. Crickets. Nervous mumbling at best. This muffled din was delivered by the crowd that unleashed the loudest Bronx Cheer ever recorded after the team's initial first down, and the same crowd that screamed like schoolgirls when a blindside Husker defender was closing in on 98 during the third quarter touchdown drive.
Say what you want about the Michigan Stadium crowd, but when there's good reason to get loud they do. Except Saturday. Perhaps it was concern for President Mary Sue Coleman's condition (thoughts and prayers), but bottom line is the soul was sucked out of that place well before the fourth quarter.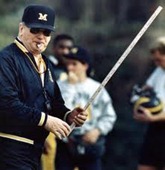 If Bo were alive I'm guessing many of the Michigan faithful would expect him to be toting his famous yardstick, circling the coaching staff talking teamwork and about preeminent men having enthusiasms…enthusiasms.
Bo's not here and the Clans are reforming in the foothills at Fraser's.
Fans are filed up outside Ann Arbor Torch and Pitchfork and preparing to march on Schembechler Hall. They want names.
Misc:
The Mood. Losing at home like that was a gut punch, and you are red-faced, Brosef: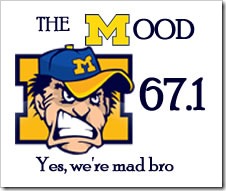 TWIMFbH featured the first game after the Stock Market Crash of 1929 (a 14-12 win over Harvard in Ann Arbor). Remind you of anything? Look out below: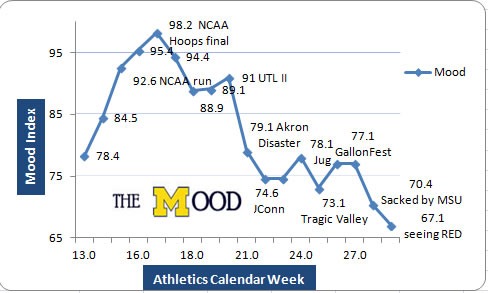 History Notes. Beyond Hoke's home winning streak getting squashed, a couple notables from #1000SSS:
* With the loss, Michigan fell to 4-4-1 in the all-time series against Nebraska.
* The announced attendance was 112, 204, marking the 250th straight game of at least 100,000 people at Michigan Stadium.
* Gallon also moved to 10th on Michigan's career receptions list (139) and to eighth on U-M's career receiving yards list (2,278).
Protocol. To all WTKA callers, a friendly reminder to recite your fandom credentials before you tee off on the coaching staff. Suggestions: yrs held season tickets, Victors Club status, Priority points total, whether you are an alum or not, yrs played or coached organized football and your position, yr you watched your first M game, any notable relationship with Ufer or Bo, number of M-branded gnomes that adorn your garden, etc.
Jeepers. It's not shocking I guess given the past few weeks, but if you were wondering the NCAA keeps track of such things:

Chin Up. A few suggestions to raise your spirits:
1. Check out this photo of the babies belonging to Michigan Insider crew, Ira and Sam. I don't care who you are, that's cute.
2. Give! The Vada Murray Foundation is raising money and even has an epic tailgate/watch party planned for next weekend. They need your help. I'm in.
3. Buy and Support! MGoAuction has some very cool items that also go to a great cause. Give and you will feel better and you know it. Want: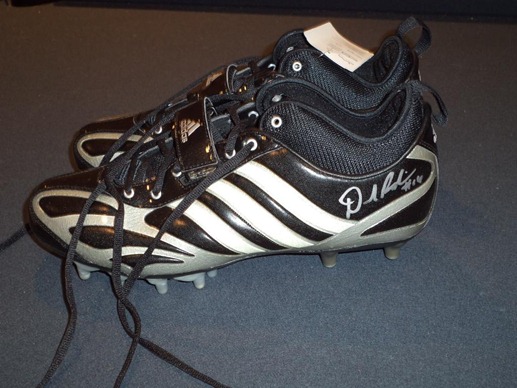 Elsewhere ..but this won't cheer you up:
When Drew Dileo dropped a fourth-down pass on Michigan's last-gasp drive, it felt depressingly fitting—of course the sure-handed receiver would let one slip through his grasp at precisely the wrong time, because that's just how this season has gone.
Maize and Blue Nation. Game takes and Photos.
As boos rained down multiple times yesterday afternoon in Michigan Stadium, it dawned on me that about 10,000 Michigan-Ohio State tickets were just sold to Buckeye fans on Stubhub. It's going to be 2009 all over again.
Hoover Street. Borges-O-Meter is broken, Davey.
Maize n Brew. Zach is dead inside.
Touch the Banner. Bids Coach Funk adieu wonders if we broke Devin Gardner.
More from here:
Follow MVictors on Twitter