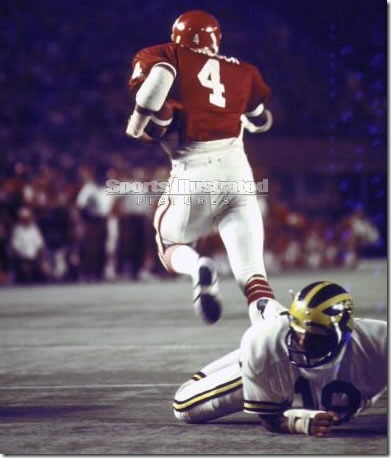 The "All Whites" bring good luck as you can see (via Sports Illustrated)
[Ed. See the full Uniform Timeline for more detail.  This post inspired the idea.]
A little history on the the subtle (and a few not-so-subtle) tweaks to the Michigan uniform in the past four decades via historian and Wolverine uniform expert Steve Sapardanis.  This was basically off the top of his head (!) – so feel free to review and comment:
1969 – Bo removes the numbers from the SIDES of the helmets and adds award stickers (solid yellow football-shaped decals)
1974-1975 – White pants for road games.  Road unis changed to all white with thin blue and yellow stripes on the end of the jersey sleeves, and matched in same stripes down the outsides of the pants.  (Check out all whites in action in the '76 Orange Bowl).
1975 – UM changes the facemask color from gray to blue.  Decals get a little facelift – a snarling Wolverine head with laces is added
1976 – UM goes with YELLOW pants for both home AND away games.  M switches to BIKE helmets for the entire team (90% of the players make the switch – a few still wear MacGregor, Rawlings, or Riddell helmets).   A slight change to the helmet design – the middle-strip "tail" is removed and now all three stripes converge at the midway point in the back of the helmet.
1977 – the road (white) jersey enhances the stripes on the sleeves – the middle yellow stripe is enlarged and flanked by a thinner blue stripe on either side
1981 – UM partners with Champion for their team jerseys. The numeral font on the jersey drastically changes – going from bold BLOCK numbers to a thinner, sleeker and more rounded font.
1982 – Another helmet design change. The three stripes now converge at the BOTTOM of the back of the helmet.
1983 – The decals are removed for two years.
1985 – The decals return.
1995 – Lloyd Carr removes the decals.
1997 – The white jerseys are changed – an "M" is added to the sleeves.
2010 – Wingless helmets appear at practice. [Ed. OK, I added that, har har].