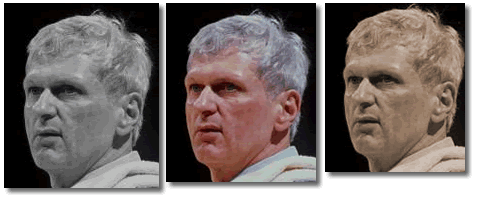 Rumeal Robinson's comments this week (which imply that many members of the 1989 championship team had a little extra help) provide an opportunity to take a look back at enigmatic former coach Bill Frieder. I was a young lad in the 1980s but there always a sense that Frieder was an odd bird for sure, perhaps even the kind of guy that would bend the rules. That's that alpha and omega of my recollection, so thankfully I have a copy Craig Ross's tome, Obscene Diaries of a Michigan Fan, published in 2006.
If you enjoy the tone, feel and prose of blogs like mgoblog and even this site, I suggest you get a copy of this book. I had a chance to meet Ross, a local attorney, author and raconteur, for lunch in December. I'm a good way through it and it's fabulous. Ross takes a good portion of chapter four in discussing cheating in college hoops in general, and takes a look at Johnny Orr, Bill Frieder, Ed Martin and Steve Fisher through this lens.
Here's a few selections from chapter four when he examines Bill Frieder. [Ed note: To avoid a full reprint of several pages I've omitted some of the work, so I risk not fully conveying Ross's story or point, so I encourage you to get a copy]:
Until Frieder, I am fairly confident Michigan ran an honest program. Or perhaps more accurately, according to people who were around the program and show know, there seemed to be nothing or very little untoward going on. Once Frieder became the head coach, Michigan started to win it share of recruiting wars, and there was always some vague anxiety among Michigan fans that maybe things were not all they should have been. [Ross goes into a variety of recruits that Frieder lured to U-M]
About a page later:
Many people have connected Frieder's oddball brilliance–his analytical ability, his claimed success at the gaming tables, the fact that he was a night owl and looked like a complete slob–with a lack of ethics. With the above conditions as underpinnings, the well-publicized rift between Schembechler and Frieder was an impetus toward believing the worst about Bill. While Don Canham always liked Frieder, Bo made it plain he thought the guy was a flake and, in his dress and demeanor, not a "Michigan man." (Clue: This is ironic, since Bill has an undergraduate degree and an MBA from Michigan. Bo's degree is from Miami of Ohio…)
Later, next page:
I have talked to Frieder on a few occasions. More significantly, I have talked to those who knew Frieder quite well, and were around the program on a day-to-day basis when Frieder was the coach. Everyone I spoke to agrees that Frieder would take full advantage of the rules. And the vast majority agree he was paranoid about not crossing the line. It is true that others are not so sure, and this includes certain friends.
Continuing:
[Former legendary AD Don] Canham, for certain, saw nothing untoward in Frieder's regime as coach. But when Frieder took the Arizona State job, I believe there was a collective sigh of relief from many Michigan fans, since there was a general, public distrust of Frieder. And when the Steve Fisher-led Wolverines won their first NCAA championship with Frieder's team, the relief turned to exaltation.