Thanks to some great spotting by Dr. Sap, check out this brilliant wire photo from 1973 currently up on eBay: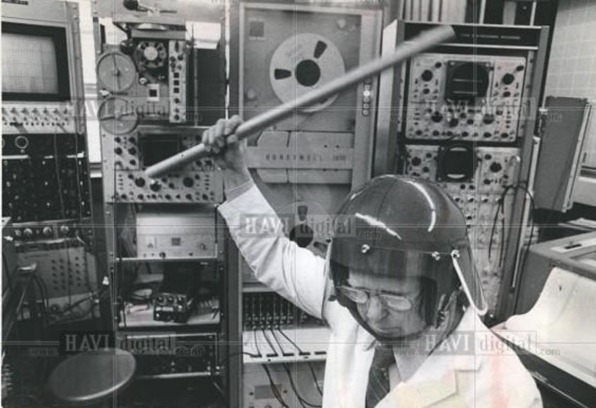 What does this have to do with Michigan football?    A lot, it turns about.  (A lot more than M fans routinely beating themselves senseless in frustration near computer equipment during games).
According to the caption on the back of the pic, the gent smacking his own skull with a stick is Elwyn Gooding, a researcher at the University of Michigan.   Why he's surrounded by enough computing power to launch and land an Apollo mission is unclear.
Gooding is testing a prototype of a safer fireman's helmet but his research extended to gridiron headgear: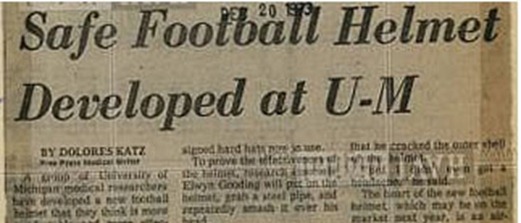 While the text is a tad foggy, the December 1973 article leads with this:
A group of University of Michigan medical researchers have developed a new football helmet that they think is more comfortable and more effective in preventing brain and spinal cord injuries than any helmet on the market.
Another hat tip to uni-guru Dr. Sap for passing along this link.  According to Helmut Hut, a worthy source on headgear, this new design made it onto the heads of The Victors shortly thereafter in the form of the Bike-branded helmet:
In the mid 1970s the Michigan athletic department along with local Ann Arbor scientists became involved in the development of a new inflatable type helmet commercially introduced as the Bike "Air Power" helmet (now sold as Schutt's "Pro Air" helmet). Macgregor quit making helmets in 1974 (the Macgregor helmet line was subsequently purchased and reintroduced in the late 1970s by Bill Kelly). In the mid 1970s Michigan began wearing the new Bike helmets almost exclusively and still use a large percentage (versus Riddell) of the Schutt "Pro Air" helmets today.
I'm partial to Schutt, now more than ever.  So is Denard.
Gooding apparently survived the series of self-inflicted blows and went on to file a series of patents for safer gear for athletes, many tied to protecting the athlete in some form another.    Maybe one of these will save college and pro football.  Here are the drawings  for patent 4566137, "Inflatable baffled liner for protective headgear.." filed in 1984: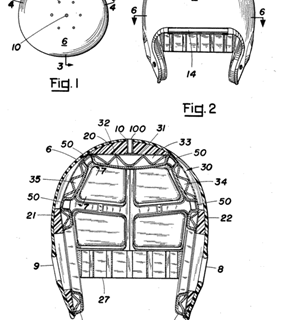 Own a piece of history – the 1973 wire photo of Gooding conducting the helmet research is available on eBay now for $21.00. 
Follow MVictors on Twitter