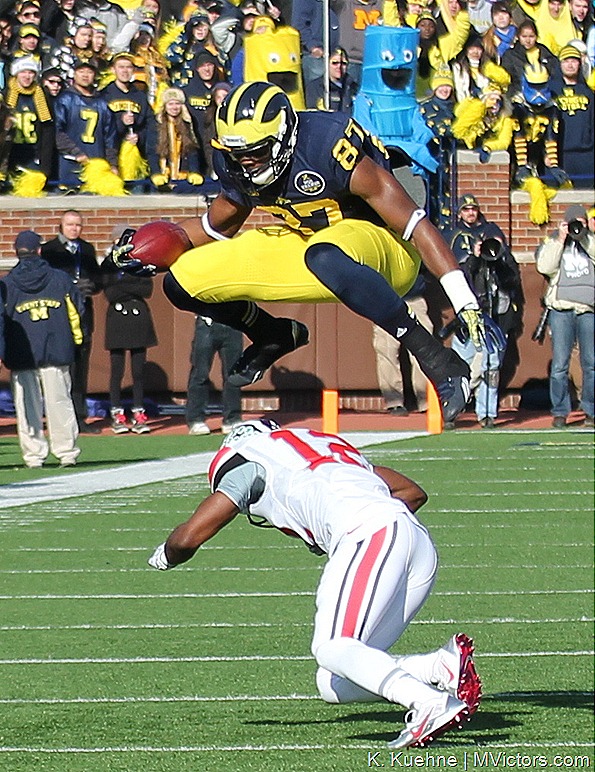 As someone covering the history of this program I always love it when I see historic events unfold before us, and fortunately I get to see a lot of that following Michigan. Saturday was an all-timer and yes, I'm one of those people who can enjoy an epic game even if we come out on the wrong side.
While many of you who watched the twists (and the result) of the 2000 Northwestern game no doubt hurled a remote or two during the game, I was in Evanston that day and while I was frustrated at times, in the end I was fine knowing I witnessed one for the ages. Damn I wish we had that two-point conversion back but I'm fine, even good. Most of all now I'm actually a little excited to see the bowl game and I'm not sure I could say that before kickoff.
To the questions on the collective mind:
> Should we have gone for 2? I liked the call, and I have trouble finding fans who disagree. I know you are out there, but it feels like most everyone liked the balls and more importantly, the call. If anything we should have gone for two earlier in the game as the nerds will tell you.
> Like the play? I think most fans did not like the call, I get that, and I didn't watching it live upstairs. That said, when I watched the replay I think if Devin throws it half a second earlier and a little more outside it might have been there. All this said, I probably would have spread things out and gave Devin a few options.
More stuff:
History Notes > from mgoblue:
Gardner upped his season passing yards to 2,960 to move to second among Michigan's all-time leaders in the category. He trails only record holder John Navarre (3,331, 2003).
Gallon has posted a reception in 38 straight games, tying Edwards (2001-04) for the Michigan program record. He owns 5+ catches in seven consecutive games.
Gallon moved to fourth among Michigan's all-time career reception leaders with 164, passing Steve Breaston (156, 2003-06) and Anthony Carter (161, 1979-92).
NOT Shutout Streak > Thanks to Craig at HSR for following this little nugget, but with the first score against the Buckeyes on Saturday Michigan now holds the longest string of games without being shutout at 362, passing BYU's 361 from 1975-2003
Mmmm Shoes > Those shoes! Uniform timeline updated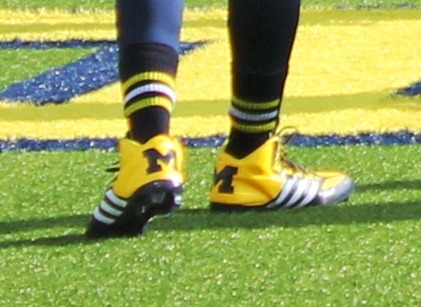 Mood > The Mood is my simple/crude measure of how great it truly is at a given point in time to be a Michigan Wolverine. For the first time after a loss, the Mood goes up this week: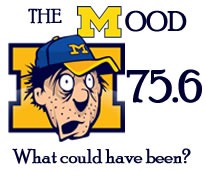 I understand that's not how everyone feels and this could even imply the fanbase considers Saturday a moral victory, but there you go.
Photos Galore > Much more on these pages including more epic photos here and here and here.
On Honoring Falk, Beckmann, and Madej > here.
Sap's Decals > here.
Elsewhere:
mgoblog – Ace game recap
Maize and Blue Nation: Defeated but not Beaten | Photos including this one: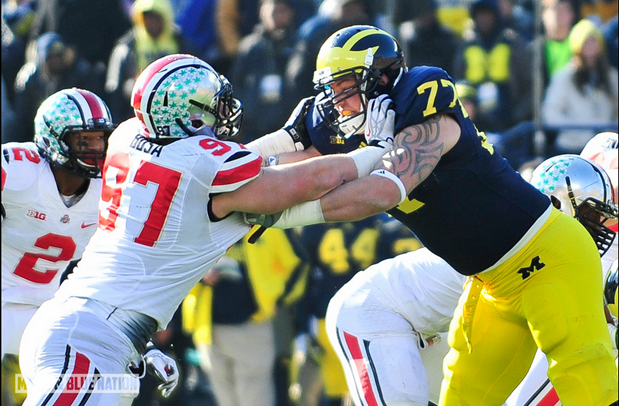 Follow MVictors on Twitter